Joe Blair: A Prose Sketch
Joe Blair is an occasional contributor to this publication. He lives in Iowa but grew up in the Merrimack Valley. His first book By the Iowa Sea: A Memoir (2012, Simon & Schuster) established him as a national voice. This prose sketch first appeared on Facebook in November, 2020.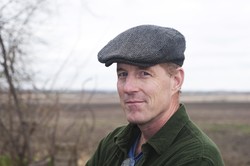 IT WAS THIRTY-FIVE DEGREES AND RAINING when we arrived at Catamount Country Club in Williston, Vermont. Catamount is a nine hole track that includes a fancy double-decker driving range. "They're only open till two," I told Dave before he set out from Turner's Falls, Massachusetts. That was at about ten o'clock. It takes three hours to drive from there to Williston.
"I don't know whether they mean they actually close the course at two, or they stop taking tee times at two," I said.
"They'll take our money," Dave said.
We pulled into the parking lot at 1:30. The wind was gusty. I wore my work shirt and the Old Mill insulated hoodie I bought at Menard's for eighteen dollars. Dave wore his paint-splattered Carhartt pants and his paint-splattered Carhartt coat. Dave's an artist. He's broke. And all his clothes are flecked with colorful oil paints. I unloaded my clubs from the back of the Honda Element and set out to see if we could get on. The lights were out in the clubhouse. Doors locked. I googled the number and dialed it.
"Catamount."
"Yeah. I called earlier. I'd like to pay for a round? There's two of us."
"We're around back. Just pull around back. We been down here since June."
Black Ping bag slung across my back, I clattered down the concrete stairway to the lower level and circled around on the outside of the high wooden fence separating the driving range from the lower parking lot. At the far end of the driving range I found a small concession stand window. A teenage kid slid the glass aside and said, "That'll be twenty. Apiece." I handed over two twenties and looked around for Dave. There was no sign of him. I decided I wouldn't be walking back up the hill to look for him. Why would I do that. He's a grownup. He can find the first tee.
I turned and headed for it. The ground was soggy. I heard there had been snow last week and then rain. At present, the rain felt like ocean rain, not stopping or starting but fading in and out in time with the wind gusts. Almost unnoticeable but soaking.
The first hole at Catamount is a par-four dogleg-right with two bunkers short punctuated by a large granite boulder. There are two or three giant burial mounds straight away and left from back in the day when giants roamed the earth and played golf and asked to be buried in the rough of the first fairway at Catamount. It's an easy driving hole, especially if you're a fader of the ball like I am. You could hit a big banana slice here, and if you can carry a couple hundred yards, you'll have a pitching wedge to the small, flat green. I teed up a ball and looked around again for Dave. Here he came, sauntering around the driving range fence just like a fucking artist. No hurry.
"I guess they're going to let us play," I said when he planted his bag next to mine.
"Should I park down here?" he said.
"I don't think so," I said. "What if they lock the gate?"
"That's true," he said.
The hardwoods and thorn bushes have taken on the hue of winter — that purple, grey, and black ensemble. The land is ready for the next thing. I choose my three wood and pull it slightly. My ball lands beyond the fairway and halfway up one of the giant burial mounds. Dave yanks his driver even further left. His ball settles at the feet of another of the mounds. We shoulder our bags and set off trudging through the standing water on the gravel path toward the left-hand rough.
The Masters golf tournament wrapped up yesterday. It's the first time it's ever been played in November. It was odd to see the course sans the extravagant makeup of spring. And no galleries. These circumstances stripped away some of the pomp and bullshit from the broadcast. It was just a course after all. A long, hilly course in autumn. Dustin Johnson won it going away. Nobody could catch him.
I don't like Dustin Johnson. That's what I told my mother early on Sunday. "Well," she said, "I don't know him. Do you?" This statement annoyed me. I used it against her later on Sunday when she reiterated her distain for Phil Mickelson. "He's such an ass," she said. "And those buggy eyes."
"Well," I said. "I don't know him. Do you?"
I got no reaction. I don't think she connected the dots.
I tried again after she later mentioned her favorite, Jordan Spieth. "I don't know what happened to him, poor Jordan. I think it might have been that Masters when he hit it in the water on that hole. He hasn't done anything since. He's so sweet."
"Oh," I said. "I don't know him. Do you?"
"Why do you keep saying that?" she said.
I don't know why I drove all the way to Vermont. I think it was because I wanted to drive somewhere. Put me in a vehicle and give me a reason to drive, even a stupid reason, and I'll drive. Happily. For fifteen hours at a stretch. Cracker Barrel after five hours on the road is a high point of my life. The Sampler: Eggs, bacon, ham, grits, biscuits and gravy, baked apples, cheese hash browns, coffee and toast. Sometimes they have a wood fire going inside that giant fireplace and I'll watch an old timer stand there facing his friends at a nearby table and warm himself. The best part is when they set the plates down in front of you and you crack open your biscuit like a bible and butter it and spread raspberry jam on it. Everything is in front of you then. You're on the edge of it. I know it's not the best thing for me, all the cheese and bacon and potatoes. I look around at the other patrons. There isn't a single slim one I can see. I also know that driving a car for no practical reason isn't the best thing. Watching The Masters golf tournament with my mother isn't a practical reason. But I did tell her I would come. And so, I reason, either I'm a liar, or I'm gong to go ahead and drive across the country, that old familiar route, once again. The same familiar series of towns and cities. The same Cleveland salad bowl of a baseball stadium, whatever it's called now. Progressive Field I think. Those same familiar exits. Wildman Road. Shortman Road. Vrooman Road. I don't mind it. In fact, I love it. I keep driving and driving. Toward my invented destination. Carrying with me my invented purpose. Stopping off at the ever present Angola rest stop in New York State. I'm walking, once again, across that trampled footbridge that spans Route 90. Once again placing my order at the weary McDonalds. Once again on the road. I listened to David McCullough on the way out. He's always good. I've already chosen a book for the way back, Open by Andre Agassi. A change of pace.
The golf ball is well below my feet, and I top my second shot. It dribbles about thirty yards ahead. Dave tops his ball as well. We eventually finish the hole with workmanlike double bogies. The rain stops altogether after the first hole and the temperature rises a few degrees. We're not cold. We're walking over the wooded, hilly landscape of a northern New England town, my twin brother and I. Dave smokes a cigarette. Soon sunset will bring our round to an end. We'll drive the Element back to our mother's house on Casey Lane and we'll eat meatloaf sandwiches and drink water and small glasses of bourbon. Our mother will say things that annoy us. She'll tell us how we were in her womb for eight months. How she knows us better than anyone else ever could because we were in her womb.
I don't know why my mother annoys me. If anyone else were to talk about her womb, or to question my dislike of Dustin Johnson, or tell me how to load the dishwasher, or how to fry an egg, I wouldn't be annoyed at all. Maybe it's because my mother's voice rang out so loudly in my head for so many years. I hated her telling me what to do. How to do it. Where to go. How to get there. I still hate it. But I suppose I need to calm down. Grow up.
Dave, who has fallen in love recently, will drive back to Turner's Falls in the darkness and I will watch The Night Manager with my mother and then hug her goodnight and then sleep.
Soon It'll be five o'clock in the morning and I'll be driving westward again. Google will direct me to take backroads through Northern Vermont and across an especially narrow spot on the southern tip of Lake Champlain and into the hills and the forsaken summer towns of Upstate New York with their empty cottages and empty dry goods stores with green tin roofs. It will snow. The snow will seem to bend in the direction of my oncoming windshield like stars at warp speed and I will be transfixed by this illusion. Through the forest. On the winding road. Alongside the winding stream. Alongside the finger lake. Not knowing where I am or when I need to turn until the Google woman tells me so.