"Galápagos Islands" and Other Haikai and Poetry from "ELSEWHERE" by Maeve O'Sullivan
If 2020 is the year for armchair travel, Maeve O'Sullivan's Elsewhere provides readers with an epic trip. Now in its fourth edition, it features haiku, haibun (a mix of prose and haiku), and long-form poetry. The writing captures a solo, around-the-world journey that took place in the fall of 2016 through the summer of 2017.
The collection of poetry begins when she is 11, alone on the Dalkey platform peeling an orange. The poems that follow, like this hybrid fruit, are the product of  far-off places. Throughout her travels, whether she's contemplating the similarity of Ben Bulben to Cerro Baúl; or her mother's handwriting to her grandfather's; there is a meditation on family, the place she is visiting, and the place to which she will return. After all, as O'Sullivan notes: "the watch that's travelled /and the one that hasn't / both tell the same time."
The book is dedicated to her sister Jean, who died of cancer, shortly after Maeve returned home. When not traveling, Maeve can be found at 53.35° N, 6.26° W, otherwise known as, Dublin.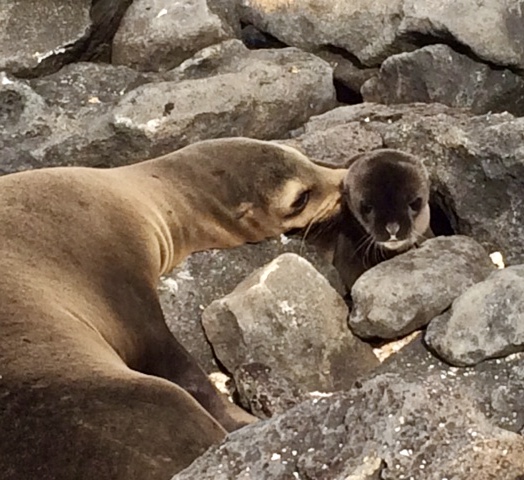 Mother and baby sea lion on the Galápagos Islands, Ecuador
Galápagos haiku sequence by Maeve O'Sullivan
(from Elsewhere, Alba Publishing, 2017)
morning excursion –
the head of a sea turtle
pops up out of blue
* * *
alighting on an outcrop
a yellow warbler
lives up to his name
* * *
hot afternoon
he blends in well with the basalt –
lava lizard
* * *
the pelican swoops down
lands on our lifeboat –
hunter's moon
* * *
wetlands  ripples spreading out from the feeding flamingo
* * *
sea lion underwater his backflip too fast for photos
the tropical fish
that lived in my uncle's house –
I'm in their tank now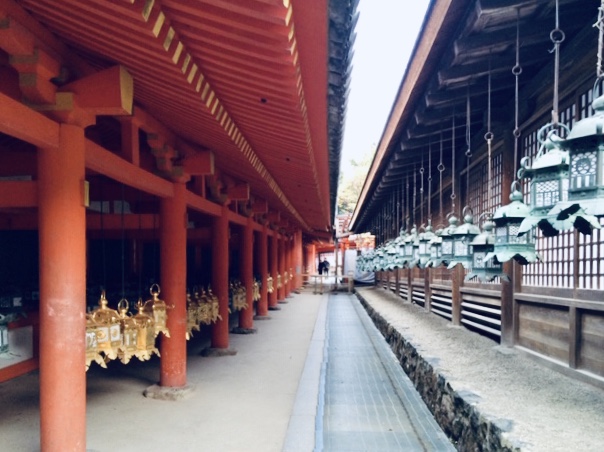 A Shinto shrine in Kyoto, Japan
A Slice of Autumn, a haibun by Maeve O'Sullivan
(from Elsewhere, Alba Publishing, 2017)
The journey from Kyoto to Nara is just under an hour by train. The burnt colours of the trees that we speed past are stunning, and I find myself thinking about Autumn Leaves, a French song from the forties with lyrics by the poet Jacques Prévert. But it is just the air, by Joseph Kosma, that I can't help myself from humming.
The man sitting opposite me asks me if I'm French, having recognised the song, and we get chatting. Turns out he's a Vietnamese-born French citizen, an elderly gent called Paul who loves to travel in Japan. By the time we reach Nara, we have decided to do some sight-seeing together.
Uphill from the train station, we see two men taking turns pounding rice into paste with wooden mallets outside a shop. The green paste is then moulded into biscuit shapes and baked in an oven. The result is mochi, a typical rice cake.
tea ceremony —
the kimono-clad woman
folds, refolds the napkin
Our journey takes us through Nara Park, where hundreds of tame deer roam. Regarded as messengers of the gods in the Shinto tradition, they have protected status which allows them to wander freely. They bow their heads to visitors who feed them with special crackers sold at shops and stalls nearby.
soft gingko nuts
same colour as their foliage —
sushi bar
We spend the next couple of hours visiting temples and shrines, and taking photographs in the clear light of this crisp, sunny day. One of the largest seated Buddhas in the world is to be found at Todaji Temple, one of the world's oldest wooden structures. It's a popular spot, with tourists buying mala beads, miniature prayer wheels and other Buddhist paraphernalia at the busy shop inside.
bronze Buddha. . .
cameras pointed away from
the ugly wooden statue
Kofukuji Temple is also striking, with its five- and seven-storey pagodas. I see something there which I've never seen before in any place of worship:
a woman ladling water onto a standing statue. I later discover that the figure is that of Kannon, Japan's version of the Buddhist deity of compassion, which takes a female form here.
Close to the entrance to our last shrine of the day, four women are diligently clearing the pathway. They wear matching pale pink tops, black aprons and an assortment of hats. Two of them sweep dead leaves into orange plastic dustpans with their old-fashioned brooms. The third pours the pan's contents into a box with rope handles, and the fourth hoists it onto her shoulder and walks away.
Shinto shrine:
a fierce dragon guards
the purifying font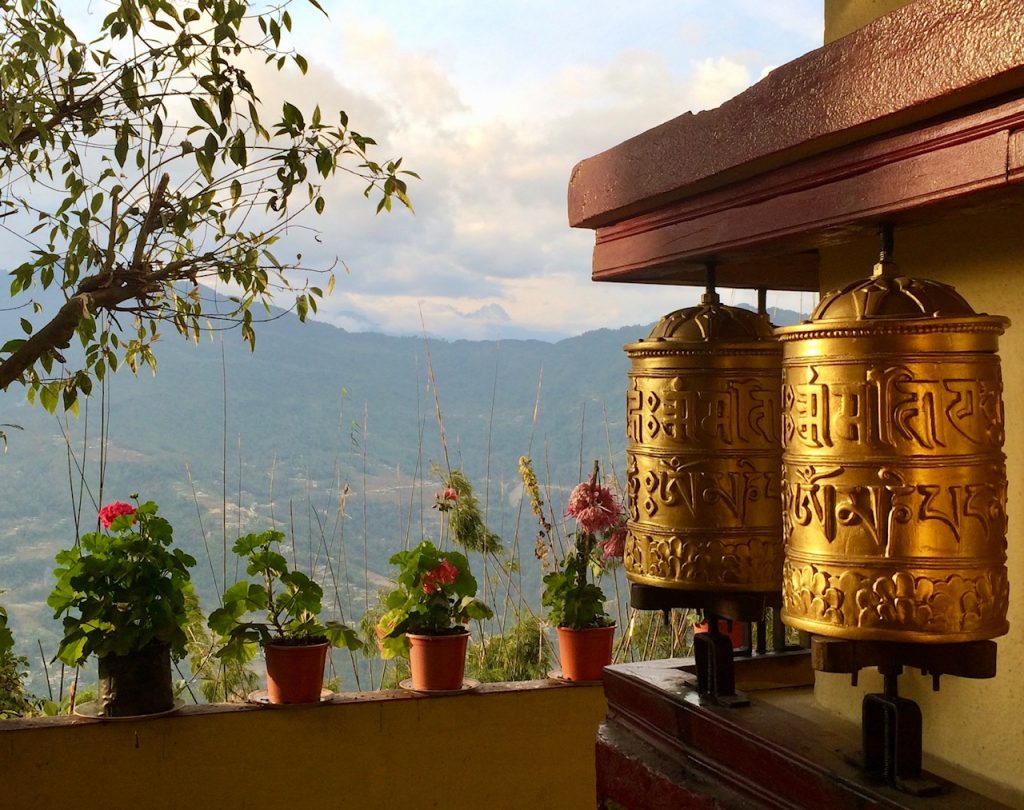 A Buddist temple in Gangtok, Sikkim, India
Morning Practice, a poem by Maeve O'Sullivan
(from Elsewhere, Alba Publishing, 2017)
(for Dónal C.)
The leaves: I'm sweeping them but still they fall
upon the steps and all along the path –
I wonder if I'll reach the boundary wall.
The storm last night increased my brush's haul,
though for this rain they will say dhanyavaad,
I'm sweeping up the leaves and still they fall.
How fine to hear the dark blue song thrush call
while smaller birds enjoy their dusty bath –
they're sure to reach and pass the boundary wall.
Sometimes I think I'll never clear them all –
like Milarepa fearing Marpa's wrath –
so still I'm sweeping leaves and still they fall.
From here in Sikkim via West Bengal,
my pilgrimage goes on into Sarnath,
I plan to make it inside Deer Park's wall.
I hope this spell in detail I'll recall,
once I progress into its aftermath.
Meanwhile I'm sweeping leaves but still they fall,
I don't know if I'll reach the boundary wall.
Note 1: 'dhanyavaad' is a Hindi word for 'thank you'
Note 2: Marpa and Milarepa are two lineage holders of the Kagyu school of Tibetan Buddhism who lived in the 10th and 11thcenturies. Marpa was Milarepa's guru and was famously hard on him. Milarepa was also a yogi and wrote poetry and songs.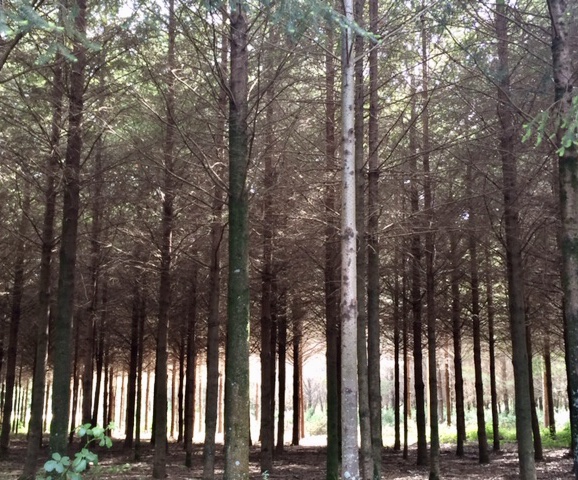 Woodlands in Galicia, Spain
Slow Camino, a haiku sequence by Maeve O'Sullivan
(From Elsewhere, Alba Publishing, 2017)
starting point Sarria  birds cheerlead the way
* * *
108kms to go  the mule and I share an apple
* * *
two more new friends –
we cross the wide river
into Portomarín
* * *
first taste
of the flesh inside the shell –
waymark symbol
* * *
cooler today  the scent of roadside fennel
* * *
everlasting hill  the squealing of pigs from a truck
* * *
walking day done —
I test the staying power
of sticky-back leaves
* * *
Ventas de Narón:
my friend with the Achilles heel
catches up
***
almost reversing into my footfall  lucky spider
* * *
approach to Palas de Rei  a robin lands on the path
* * *
I stop for a rest
long enough for a small spider
to make a small web
* * *
Monday morning –
a grey heron sails over
the furrowed field
* * *
I miss the tunnel
under the main road –
bee in a foxglove
* * *
mine's a slow Camino…
yours is even slower
stripy caterpillar
* * *
eucalyptus trees
in various stages of stripping –
their scent!
* * *
ten miles to go      birdsong eclipsed by jet engines
* * *
this hill, this heat       Buen Camino, amiga!
***
last day of the hike:
the cockerel makes sure
I'm rising and shining
* * *
the granite touch
of the cathedral wall –
Danny Boy on fiddle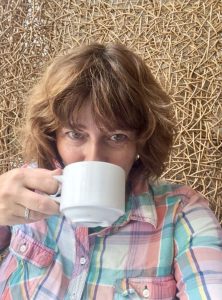 Dubliner Maeve O'Sullivan's poetry and haikai have been widely published, awarded and anthologised over the last twenty years, and have been translated into ten languages. Maeve is the author of four collections from Alba Publishing (UK): Initial Response (2011), Vocal Chords (2014), A Train Hurtles West (2015) and Elsewhere (2017), with a fifth forthcoming in 2021. Maeve is a founder member of the Hibernian Poetry Workshop, performs with the Poetry Divas spoken word collective, reviews for a number of publications and leads workshops in haiku and related forms.
Readers can follow Maeve on Twitter, @maeveos and @writefromwithin, and on Facebook
Copies of the fourth edition of Elsewhere are available through her publisher: www.albapublishing.com at info@albapublishing.com, or by contacting the author. For further reading about Maeve's travels, "A World Trip Bookended by Losses" by Maeve O'Sullivan was featured in The Irish Times , and "Around the World in Poetry, Haiku and Haibun,"  is an interview with Maeve O'Sullivan by Susan Lindsay in the literary magazine, Honest Ulsterman.
Photographs by Maeve O'Sullivan