Joey Pauletto Profiles Author Stephen O'Connor
Joseph Pauletto grew up in the northern suburbs of Chicago before studying journalism at Boston University. His writing includes music criticism, as well as literary research and journalism. In high school, he was the station manager of WGBK radio, ran varsity track and cross country, and played jazz guitar.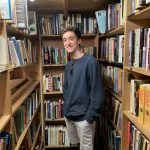 A Profile of Author Stephen O'Connor
By Joey Pauletto
IT'S EARLY MAY 2020 when author Stephen O'Connor picks up his cell phone for an interview. In this new era, journalism, and all human interaction for that matter, have been reduced to the impersonal limitations of technology. However, that does not stop O'Connor from engaging in a half-hour long conversation over his novel.
O'Connor's new novel, This Is No Time to Quit Drinking, which hit the shelves in late January, is his most recent venture into fiction-writing. O'Connor blends Irish folklore, satire, magical realism, and modern day issues into this new piece, making it a unique venture in his writing career.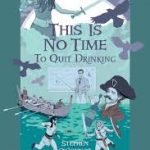 "Steve has a knack for spinning tales that may be in his cultural DNA . . . he filters his knowledge of the best writing through the ages into contemporary stories with universal appeal," said his editor and friend Paul Marion, who played an important role in O'Connor's writing career.
O'Connor, who has written four other books ranging from short stories to spy novels,  made this literary endeavor because of his strong passion for the subject matter, despite the effects it would have on his marketability.
"An agent told me that publishers don't know what to do with me because they want people who develop a brand so they know what shelf to put you on, and they don't feel comfortable with people doing these different things," said O'Connor.
The novel is centered on its protagonist Bartley Hannigan, a struggling teacher. Throughout the story, he has to juggle difficult marriage issues, as well as personal and sometimes surreal problems in his search for stability. Many of these themes are rooted in O'Connor's own life experiences, which helped shape him into the writer he is today.
Before becoming a writer, O'Connor, 65, taught English to ESL students at local high school Greater Lowell Tech, and while he considers that experience as valuable, the significant time commitment the job required caused him to have little room to focus on his own writing.
He believes that teaching English inhibits your ability to become a writer, as "you end up so burdened with all these papers you have to read all the time, that you're not going to have any time to write or feel like writing."
While O'Connor's teaching job provided him with stability in his life, it did leave him feeling unfulfilled. While teaching ESL and at-risk students, he found it hard to engage them in the literature he was passionate about, and the whole time, becoming a writer had always been "in the back of his mind."
While teaching, O'Connor had to take professional development courses to maintain his position. While he thinks most of these classes were "bullshit," he became very engaged with a mystery writing class he took with author David Daniel at the University of Massachusetts, Lowell. He valued Daniel's ability to balance praise and criticism when giving his students feedback on their work, which influenced the development of O'Connor's book The Spy in the City of Books.
Eventually, the two writers developed a strong friendship that they benefited from, both personally and professionally. After class, they would go out for a few beers and talk about their work, which led to O'Connor's decision to begin his writing career, even after he thought it was too late in life for him to pursue that dream.
Daniel believes that the class was mainly a catalyst that brought out O'Connor's interest and ambition for writing. "I really don't think I taught him much of anything, but the class and our continuing friendship encouraged him and gave him space to talk about writing," said Daniel.
O'Connor's Irish heritage also played a large role in the development of This Is No Time to Quit Drinking. After becoming familiar with Irish folklore, music, and poetry from his father during his childhood, he studied Irish language and culture, translating old Irish literature into English. This led to him moving to Dublin to get his master's degree, where he was able to experience Irish life firsthand.
In addition to his Irish heritage, O'Connor's work is deeply connected to his home, Lowell, Massachusetts. Some of the authors that influenced his writing the most, specifically Henry David Thoreau, came from the New England area, and inspired O'Connor to base many of his stories in that area.
In his writing, O'Connor has shown an impressive ability to translate familiar aspects of his hometown, giving it homespun and colloquial qualities that lead to rich storytelling. "I would consider [O'Connor] a Lowell writer, because even though he has been away in Europe and around the United States, he knows Lowell intimately, and I think that's one of the strengths of his stories," said Daniel, who has also based many of his novels in Lowell.
O'Connor began his writing career in his forties, an older age than most prospective authors, as he kept putting off writing while he was teaching high school. "When you're young, you think you have forever [to begin your writing career], but when I started to see my forties coming up I thought 'if I don't do this now, I'm not going to do it,'" O'Connor said.
Daniel also acknowledged that starting a career in writing can be difficult, but "once you start to imagine yourself in this kind of a life in writing, it gives you permission to pursue it."
O'Connor is now retired from teaching, allowing him to focus completely on writing. Recently, his novels are growing in popularity, especially locally. According to Marion, a book signing event in downtown Lowell had a line stretching out the door and around the building, and that positive reception signifies the progress O'Connor has made over the years.
"I am a cheerleader for his work and boost his books as much as I can," Marion said, "Now that he is retired from high school English classes, I look forward to a lot more writing from him."