Covid-19 in a Small Texas Town: A Frank Wagner Essay
A World Crisis Comes to a Small Town in Texas
By Frank Wagner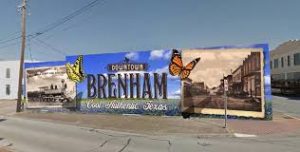 UNTIL ABOUT FIVE YEARS AGO, most people knew about Brenham, Texas, for the ice cream that is made here. Blue Bell Creameries quite rightly promotes their ice cream as the best in the country. The Kruse family were simply suppliers of milk and butter, but they had some fun making the ice cream. That was just over 100 years ago. The ice cream was so good they began marketing it all over Texas. In and around Brenham saying "let's get some Blue Bell" is synonymous with going out for ice cream.
That changed in 2014. Reports of people becoming ill due to listeria poison surfaced and Blue Bell hit on hard times. The Creamery and its famous ice cream survived. They are up and running about two miles from my house.
What did not was the sense that this town of 15,000 was immune from so many of the world's ills.  Brenham was known, nationwide, but not in the happy talk, chamber of commerce way. Bill Maher on Real Time made mention of the ice cream crisis. Brenham saw a spike in unemployment but it soon recovered.
Yes, painful reality does come to small towns. Brenham has the charms of any small town, but being 70 miles west of Houston and 90 miles of Austin, we can get to Major League Baseball, NBA basketball, MLS soccer, and NFL football games. I have seen numerous Broadway shows, as well. In Austin, there is the South by Southwest Festival and the Texas Book Festival.
About three weeks ago I went to the HEB. (In Texas to say you're going to HEB, is the same as saying you're going grocery shopping). I found a frantic scene and the first signs of panic. The place was too crowded. I had just come from my doctor. She told me to keep my distance. At the time that was three feet. Now it's six. Either way, the distance was impossible at that store on that day or any other day. The rows of empty shelves of the most common items gave the store a look of a third-world country. The fear in the faces was the same of any crowd in El Salvador or Nicaragua. The Covid-19 Virus fear had hit Brenham and its people.
This shocks these people. I have lived here just over 20 years, and was their radio newscaster for fifteen of those years. This time of year means a series of spring festivitas, most notably Maifest, an annual celebration of the town's German heritage. Begun in 1881, this festival and has been nearly continual since then.
None of that, this year. No Um Pa bands, no German flags and banners festoon the town of Brenham this year. Not just now. The Maifest Organization hopes to hold the celebrations, but only when it is safe to do so. The parades and carnivals will have to wait. The only times this celebration was suspended were in 1918, 1940, and '44, when there was no desire to celebrate things German.
I am still well known, liked and trusted here. People still give me news tips. I quickly find out about the latest. Our community held out for a good while, but now five cases have been reported. The first one was a man in his 40s who works at the city utility department. Most people I know are doubly or triply concerned.  I'm about to have my 65th birthday. I am diabetic, and have a history of heart problems. Just like most people I know in this town. Just like most of the political, business, and community leaders in Brenham. This town is older than average. A diagnosis of Covid-19 could mean a death sentence.
One cannot help but be astonished at the empty streets. The only busy spot in town is the HEB, just off Highway 290. The parking lot is mostly full. Shopping aisles resemble a frantic day on the New York Stock Exchange. The only other traffic in town comes from the dozens of young people making food deliveries.
Much of the population came here to escape the crazed frenzy that is Houston. Now, they find that nature's afflictions come out to the country and small town America.