A Poem for the Moment by Charles Simic
As panic sweeps the United States and the world in the wake of the Coronavirus pandemic, our regular contributor George Chigas of UMass Lowell was reminded of the poem "Fear" by Charles Simic, the Serbian-born Pulitzer Prize-winning poet who has taught at the University of New Hampshire since the 1970s. The poem was published in his collection Dismantling the Silence (1971).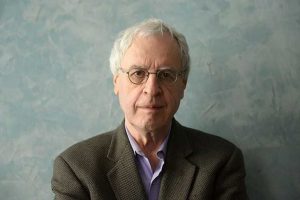 FEAR
By Charles Simic
Fear passes from man to man
Unknowing,
As one leaf passes its shudder
To another.
All at once the whole tree is trembling
And there is no sign of the wind.
.
Note: "Charles Simic was born in Belgrade, Yugoslavia, in 1938. In his early childhood, during World War II, he and his family were forced to evacuate their home several times to escape indiscriminate bombing of Belgrade. Growing up as a child in war-torn Europe shaped much of his world-view, Simic states. In an interview from the Cortland Review he said, "Being one of the millions of displaced persons made an impression on me. In addition to my own little story of bad luck, I heard plenty of others. I'm still amazed by all the vileness and stupidity I witnessed in my life."
"Simic immigrated to the United States with his brother and mother in order to join his father in 1954 when he was sixteen. He grew up in Chicago. In 1961 he was drafted into the U.S. Army, and in 1966 he earned his B.A. from New York University while working at night to cover the costs of tuition. He is professor emeritus of American literature and creative writing at the University of New Hampshire, where he has taught since 1973, and lives on the shore of Bow Lake in Strafford, New Hampshire." (https://en.wikipedia.org/wiki/Charles_Simic)