New Nancye Tuttle Essay: Remembering Julia Child
Nancye Tuttle sent us a new essay about her encounters with famed chef Julia Child. On the counter of our kitchen in a short line of cookbooks, Rosemary and I have an autographed copy of The Way to Cook from Rosemary's mom, who attended the Lowell event described below. Read Nancye's inside story of her time with a cultural icon whose kitchen is installed at the Smithsonian Institution's National Museum of American History in Washington, D.C.—PM
Julia and Nancye
Bon appetit, Julia
By Nancye Tuttle
Long lines snaked around the bookshelves and aisles at Lowell's downtown Barnes & Noble bookstore on a warm Friday afternoon in May 1997, right before Mother's Day. Waiting patiently, some folks carried grease-stained, dog-eared cookbooks entitled Mastering the Art of French Cooking, while others bore new volumes called The Way to Cook. A few wore t-shirts emblazoned with the phrase "Life itself is the proper binge."
All chatted excitedly as they awaited the arrival of Julia Child, the author of those culinary bibles and creator of that scrumptious slogan.
Yes, indeed. Julia Child, everyone's favorite French chef and star of numerous PBS cooking shows, was coming to the Lowell bookstore to sign books and meet her many fans, including me, a lifestyle reporter at the Lowell Sun.
Maren Solomon, B&N's manager, had arranged Julia's visit in honor of the store's first anniversary. The only stipulations, Maren recalls, were that she give Julia a ride to Lowell from her home in Cambridge and back and that attendees not ask her to write long salutations in the many books that they brought.
Julia, nearly 85, was near the end of her long, illustrious career.  She no longer drove, and she also had painful arthritis that made handwriting difficult. Her fans didn't mind the signing restrictions. They just wanted to meet their idol and show her their love.
One lady, arriving before the store opened, camped out in a lawn chair so she'd be the first in line. Another brought Julia organic eggs, freshly laid from her backyard chickens. The folks at Ymittos candles crafted a candle for her that looked and smelled like fruitcake.
Anna Jabar-Omoyeni, owner and executive chef of LaBoniche, the beloved Lowell bistro, got in on the action. She and her excited staff prepared numerous dishes from Julia's cookbooks, passing samples out to people waiting in line. And Julia, herself, relished the eatery's delicious pate and cheese plate, salmon cakes and signature black bean soup.
"It was exciting and a thrill to serve her," recalls Anna, looking back on that day.
I was thrilled to land this plum reporting gig, too, waiting patiently along with the rest of the crowd for Julia's arrival.
I had been a huge Julia Child fan since the early 1960s when her first TV show, "The French Chef," aired on Saturdays on PBS. Ada Tuttle, my future mother-in-law, and I huddled in her TV room in Vineland, N.J., enjoying Julia's culinary antics and expertise in black and white as she flipped omelets, slurped wine, never got flustered or ever missed a beat even if the plump chicken she was stuffing slid off the table and onto the floor.
"No one will know," chirped Julia, with a wink, in her well-known warble, as she scooped the chicken up and kept on stuffing. Ada and I roared in laughter and rarely missed a show.
My encounters with Julia reached a peak 18 years later in the early 1980s. By then, I was a young reporter/editor at the Beacon papers in Acton. One winter day an invitation turned up in a pile of mail on my cluttered desk, addressed simply—Staff Writer, Beacon Publishing, Acton, Mass.
Little did I know then, but that invite would change my life.
"You're invited to lunch at WGBH studios in Boston to preview Julia Child and Company and to help Mrs. Child launch her new PBS series,' the invitation read.
"Oh, my God," I screamed to the reporters and editors hunched over their computers in the cramped newsroom. "It's an invitation to lunch with Julia Child. I've got to cover this."
I already had my dream job–or so I thought—working at the weeklies, covering selectmen and staying up late, on deadline, every Tuesday night.
I loved my job, but knew there was more to the journalism career that I craved than budget hearings and zoning board appeals.
I wanted fun people, cool events and more glamour and glitz than the mundane town meetings that I covered provided.
That invitation to lunch with Julia Child was the key to my moving on.
My kindly editor, Dorris Hilberg, looked up from her keyboard, smiled and told me that the story was mine. She then assigned my colleague Vicki Pierce, a spit-fire photographer, to shoot the lunch event for the Beacon's weekend features paper The Sunday Independent.
Dorris was as excited as Vicki and me, since back then, it was the city dailies that landed these scoops, not a little weekly paper tucked in the suburbs. So she eagerly started planning a dynamite layout for the weekend edition.
On our big day in Boston, Vicki and I joined fellow journalists in WGBH's comfortable conference room, eager for lunch with Julia.
Red wine flowed, and there were ample bowls of the star's favorite nibbles–Pepperidge Farm cheddar goldfish crackers — to munch on as we awaited Julia and her entourage's arrival.
Soon, we heard a commotion in the hallway, accented by the familiar, high-pitched voice that preceded her entrance.
And then there she was, all six feet of Julia Child in my presence. A shock of wavy brown hair and full of good cheer, she towered over all in the room, including her diminutive husband Paul, following devotedly behind her.
Julia greeted us and led the way to the buffet, set with salad, bread, and steaming cauldrons of rich cassoulet, a hearty peasant-style meat and bean casserole she would prepare in the TV episode we soon would preview.
I was totally star-struck, I admit it. But Vicki, my diligent photographer, knew what to do — and set my wine glass on the table right beside Julia's.
And then there I was, sitting next to the legend, sipping wine and enjoying a friendly one-on-one chat.
"So Ms. Child," I started in, a bit meekly. "I'm making creamed chicken for a dinner party I am hosting this weekend. My recipe calls for canned mushrooms and chicken soup as the base for the sauce. Do you ever used canned ingredients?"
"Well, dearie," she said, leaning in with a smile and not the least bit condescending, "believe me, fresh is always best. So use fresh mushrooms and your own cream sauce. It's not hard and your dish will be better."
I took to heart what she said, committing myself to her fresh is best suggestion.   Then the light's dimmed, the show started, and Julia, in all her glory, cooked cassoulet and sipped wine with gusto.
"Bon appetit!" she warbled in her classic sign-off, lifting her glass to the camera while the credits rolled and the lights came up.
Paul Child, dozing in his chair after his hearty lunch and several glasses of wine, quickly came to and snapped to attention when Julia swiftly kicked him under the table.
Julia was delighted with our applause, then answered our questions with candor and charm. She signed the press kit to my mother-in-law "To Ada, Bon Appetiit! Julia Child."
And then she was gone — but not without leaving a lasting impression on me and affording me my first celebrity feature.
It ran the next weekend under the 60-point headline "Lunch with a Legend," with my bolded byline directly below.
I sent a copy to Gail Perrin, the Boston Globe food editor who'd attended the lunch.
"Nice job, well-done," Gail wrote in a lovely note that bolstered my confidence.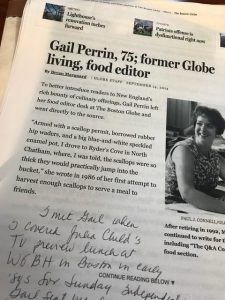 Julia was my first celebrity interview—and my feature on her opened the door to my landing the lifestyle staff job at the Sun three years later.
By the time I met her again in Lowell on that warm May day 17 years later, I'd interviewed dozens of celebrities and written hundreds of feature stories.
But Julia was my first and still my favorite. And I told her so that afternoon at Barnes & Noble.
"Julia, here's a picture of you and me," I said, sharing the treasured photo of us over lunch that Vicki had taken.
"Well, dearie, we look a bit different, don't we?" she quipped with a droll smile as she sampled cheese and pate.
She signed it "Bon appetit to Nancye! Julia Child" and then graciously gave me the flowers someone had given to her for my mother-in-law, who was living with us and still a big fan.
"Wish her a happy Mother's Day for me," she said kindly.
Twenty-three more years have passed by in a flash. Julia is gone. So, too, is Gail Perrin and Ada, my mother-in-law.  And I'm in the waning years of a long, satisfying career, nearly 40 years writing features, profiles and reviews for papers and magazines in Massachusetts and Maine.
But, whenever I'm asked about my favorite interview, I always answer, "My first—Julia Child."
And whether I'm flipping an omelet, grilling a burger or tackling a three-course dinner party, I always recall her wit, kindness and her sage advice that fresh is best, be it in cooking or writing or a life well-lived. Bon appetit!