Artist Susan Kapuscinski Gaylord: Early Years in the Lowell Renaissance
Susan Kapuscinski Gaylord's New Book About Her 40 Years as an Artist Covers Her Time in Lowell
Susan Kapuscinski Gaylord's involvement in the arts includes roles as artist, teacher, speaker, writer, designer, and publisher. Her artists' books are in the library collections of the Museum of Modern Art, Wellesley College, Yale University, and Bowdoin College and have been exhibited across the U.S. and Canada and in South Korea. Her work has been featured in magazines (Somerset Studio, Fiberarts, Bound & Lettered, and Letter Arts Review) and books (500 Handmade Books, 500 More Handmade Books, 1,000 Artists' Books, Cover to Cover, The Art of the Handmade Book, and Handmade Books and Cards).
 Susan is a seasoned presenter and lectures on the history of the book, calligraphy, the artist's life, and the intersection of art and commerce. She will talk about her new book, Calligraphy: How I Fell In, Out, and In Love Again at the Pollard Memorial Library, 401 Merrimack St., on April 9 at 7 p.m. Her book covers her journey as an artist since the 1970s, including a period when she was a leading cultural activist in Lowell. We asked her to share her recollections of a time that was critical to the city's renaissance. This is her first appearance on the blog, and we look forward to hearing more.—PM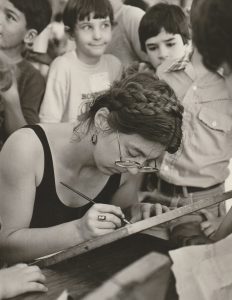 At Spring Fling 1982, JFK Plaza, Lowell, one of the many festivals at the time.
BY SUSAN KAPUSCINSKI GAYLORD
 About halfway through 2018, I realized it was an anniversary year—forty years since I began to seriously do calligraphy and take the first steps in what has become a life in the arts. I marked the occasion with forty blog posts which became a book, Calligraphy: How I Fell In, Out, and In Love Again in 2019.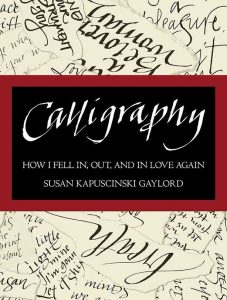 I think we like to think that our lives unfold because of actions we have taken and choices we have made. But this exercise in looking back has shown me how much happens by chance. It was chance that a high-school friend remembered that I had dabbled in calligraphy and asked me if I would letter a page in a wedding album. It was chance that I was collecting unemployment at the time and had open days to spend at our dining room table with pen, paper, and ink. But the luckiest chance of all was that our dining room table was in North Billerica where we lived from 1977 to 1985. Our proximity to Lowell shaped my future in profound ways.
After many months of close to forty hours a week practicing calligraphy and the approaching end of my paid unemployment, I decided I should try to make money at it. My ambitions in the beginning were modest. Find people to hire me to letter invitations, poems, and signs while I continued to practice and improve my skills.
Early lettering from one of my favorite books, and a photo of me writing in the air by James Higgins. 
That began to change when I had a table at an art and culture gathering at the Lowell Memorial Auditorium where I met some of the artists who were forming a group that came to be called Art Alive! The Greater Lowell Art Co-op. I was deeply involved from its beginning in November 1979 until I moved from the area in 1985. We saw ourselves as an alternative to the older Lowell Art Association, established in 1878, and based at the Whistler House Museum of Art. We were generously given gallery space downtown by the newly created Lowell National Historical Park, which had purchased the Solomon's Fabrics building at 200 Merrimack Street and did not yet have a use for it. It was a large, mostly open space with plate-glass windows in front. We shared the space with a local non-profit organization, Human Services Corporation, which was founded by Patrick J. Mogan and his colleagues who had helped conceive of the national park. (The location is now a parking lot for Enterprise Bank.)
Once the word got out, we drew members from a thirty-plus-mile radius. Most of us were in our late twenties to mid-forties. Some had been to art school; many had not. Some were experienced artists with resumés of exhibitions; many had never exhibited before. We forged close bonds. We had monthly exhibits where members could exhibit one or two pieces and also opportunities for solo and shared shows. To have a place to regularly exhibit with the support of friends was such a great starting point. I shared the struggles and joys of making art with like-minded people. I learned about framing, presentation, meeting deadlines, publicizing work, and pushing ahead.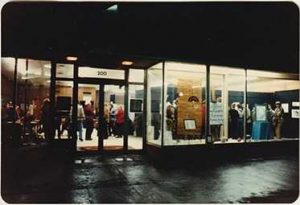 Outside looking in at my first major exhibition at Art Alive! with Barbara Irving.
Art Alive! was more than an exhibition venue. We took part in city events as well as organized our own. We participated in the Palmer Street Festival, a Spring Fling for children at City Hall Plaza where artists demonstrated their work, and a Victorian Christmas celebration in downtown Lowell. Over the years, we offered workshops, gave demonstrations, had an Artist-in-Residence program for members, collaborated on an exhibit with the Merrimack River Watershed Association, and produced two Kerouac celebrations: "Kerouac Lives!" with artwork plus an evening speakers' program that drew close to 200 people, and an all-day reading of Doctor Sax called "Kerouac Aloud!"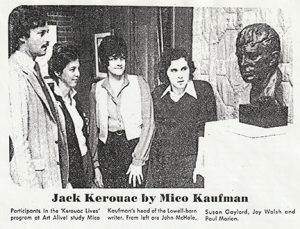 Lowell Sun photo from our first Kerouac event, "Kerouac Alive!" in 1980 (L-R, Kerouac scholar Jay McHale, me, editor of the "Moody Street Irregulars" Beat magazine Joy Walsh, and poet Paul Marion).
We had our ups and downs. Every well-attended event was matched by one with a handful of people, along with our reception regulars who came for free food and wine. We learned perseverance and patience in terms of our own work and its interaction with the world.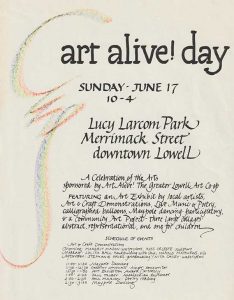 A day of art activities at Lucy Larcom Park.
Over the years, my work grew from straightforward lettering to interpretive renderings of poems and quotes, and then away from words to sculptural handmade books.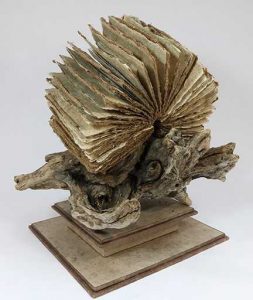 Spirit Book #96: Harmonious Rebirth.
I have now returned to calligraphy with a renewed energy. My goal is to write meaningful words with spontaneity and spirit. Lowell and Art Alive! gave me the confidence to take myself seriously as an artist, the support of fellow artists who became friends to share the journey, and a lifelong connection to the city whose motto is "Art is the Handmaid of Human Good."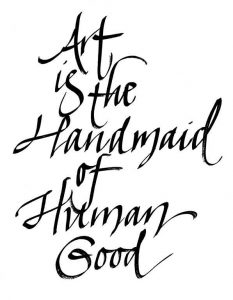 Lowell's motto in my current lettering.