Nancye Tuttle: A New Essay
Nancye Tuttle is a past contributor to this blog and well known as a journalist who is still working even though she is not at the Lowell Sun every day writing about arts and entertainment in the region. Local readers may also remember the popular museum exhibition about the history of movie theaters in Lowell that she organized at the Patrick J. Mogan Cultural Center. Read the exhibit brochure here. We look forward to more recollections of her youth in New Jersey, whose particular details are universal. Glen Ridge, Lowell. American culture. This essay is reprinted from Life Reflections (2018-2019) by the Life Story Writers in the South Coast Senior College, an outreach program of  York County Community College.—PM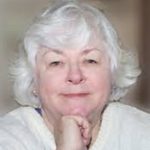 Bombing the Ridge
By Nancye Tuttle
Life was slow in my hometown of Glen Ridge, a sliver of a North Jersey suburban community, three miles long and three blocks wide and tucked between brawny Bloomfield to the south and moneyed Montclair to the north.
When I was growing up there in the '50s and early '60s, dads worked, most moms stayed home, cooking, cleaning and doing the wash.  And kids just kept busy being kids.
I walked to and from Forest Avenue School every morning, noontime and afternoon with my friends. For fun, I rode my bike and skinned my knees, roller-skated and skinned my knees, played hopscotch, and skinned my knees.
All that exercise made me hungry by dinnertime and ready to dig into Mom's marvelous meatloaf or robust roast chicken, served at 6 o'clock on the dot, along with her strict orders—"Be home before dark."
In seventh grade, things changed. Childhood innocence disappeared when I left the safe confines of grammar school to enter the wild world of "teenage-hood" at the big, bad junior-senior high school in the center of town.
I learned the facts of life pretty fast here just by watching upper class couples strolling hand-in-hand in the hallways between classes—then stealing a passionate kiss or two before parting ways for 40 minutes.
I had numerous crushes and smoked in the girls' room. I slow danced and went to my share of make-out parties. I rode in cars with boys.
By 11th grade, I felt almost grown up. I knew all there was to know about dating, drive-ins, and going steady. I was a brazen hussy, at least according to Mom, who angrily called me that after she saw the blonde streak I had proudly peroxided in my hair.
By then, I'd kissed my share of boys and had even worn Pete Clark's ring around my neck for a while, a sure sign that we were a couple and madly in love—for a month or two.
But one significant rite of passage remained in my Happy Days world before I'd really be grown up. I had to get my license and I needed to Bomb the Ridge.
Bombing the Ridge was a uniquely Glen Ridge term for the favored weekend sport of pressing your car's gas pedal to the floor and taking off at 60, 70, or 80 miles an hour down Ridgewood Avenue, the borough's wide, tree-lined main thoroughfare.
It resembled the Greased Lightning scene in the movie Grease. But we weren't drag racing. Our goal was to see how fast we could make the car go at the start and then let it roll to a stop, a mile or so down Ridgewood Avenue, without ever stepping on the brake.
I had no souped-up jalopy with orange flames painted on its fenders when I Bombed the Ridge. Instead, I drove Dad's oversized Dodge station wagon with the push-button transmission, three plush couch-like seats that accommodated nine comfortably, and automatic windows that glided open at the touch of a switch.
The beige beauty resembled an oversized creampuff, not some speed-demon car that you could crank up to 70 miles per hour in a matter of seconds.
The night I tried to Bomb the Ridge, I crammed 10 or 12 girlfriends into Dad's blimp of a car. The weight of all those bodies alone made reaching maximum speed difficult, if not impossible.
But we piled in, and I pressed my foot on the gas all the way to the floor. The old Dodge spit, sputtered, and moved grudgingly along—at about 5 miles an hour.
"Uh, wait," whispered my friend Jean, seated beside me on the front seat. "Did you check the gas?"
I looked at the gas gauge and knew what was wrong.
You couldn't Bomb the Ridge on an empty tank. So instead of ripping down Ridgewood Avenue at 70 going on 80 miles an hour, my friends hopped out of the car, and then huffing and puffing, pushed Dad's Dodge and me all the way to the gas station two miles away.
—Nancye Tuttle (c) 2020