'Chinese Food': A Poem by Frank Wagner
Chinese New Year was celebrated this past Saturday. And, when we think about it, what's more American now than Chinese food? It's everywhere, and most of us have enjoyed it. Frank Wagner brings us back to the table in this poem with his praise of a warming meal. Let us know in a Comment if you have a favorite Chinese dish or if you have a memorable experience with take-out, a late supper at your go-to restaurant, or a big banquet with Chinese food.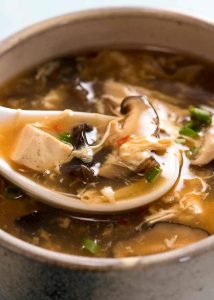 Web photo courtesy of recipetineats
.
Chinese Food
If you ever question if life is worth living,
you must consider the joy of
hot Chinese food on a cold day,
with the steam of the soup,
the spices of the chicken,
oh yes, the soup, the hot and sour soup,
steaming from the little bowl,
and all the rice.
Just outside, the wind from the north blows
so cold that it bites the skin on your face,
but when the hot tea
stings the tongue
with that first sip,
you know that
all the world is warm,
it is time to sleep again
along with the most gentle dreams.
.
Frank Wagner (c) 2020