Aren't We Marching Anymore?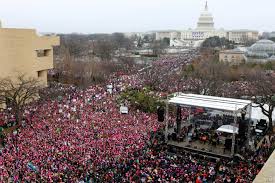 Women's March, 2017, web photo courtesy of Wikipedia
Aren't We Marching Anymore?
Do other folks think that the Democratic National Committee or some national organization should be organizing demonstrations in Washington DC and all cities during this Impeachment period that could be over very soon if the GOP has its way? Why aren't people being called to the streets? Has the MAGA crowd intimidated the Resistance with its threatening behaviors? Shouldn't there be a million people on the National Mall this Saturday or Sunday? What are the Democrats waiting for? Why doesn't Biden or Bernie or Elizabeth call for a mass gathering to show the GOP that people are watching this Impeachment process and want "the boss" removed? Mike Bloomberg can pay for the buses from everywhere in the country. This thing is going to be over in a week maybe. All over the world, people are marching for justice, freedom, democracy, environmental protection—where are the Democrats? Raising voices on social media or even this blog is not the same thing as standing out. Congressman John Lewis says there are times when you have to put your body in the way, you have to get in the way.