'The Scent of Apples Fades' by Linda Hoffman
The Scent of Apples Fades
By Linda Hoffman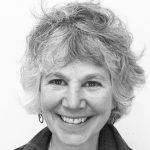 Linda Hoffman, a nationally recognized artist, is the orchardist at Old Frog Pond Farm & Studio in Harvard, Mass. A strong advocate for sustainable agricultural practices, she contributed this essay to our blog as New England orchardists face increasing pressures to grow healthy fruit. Linda, a Nashoba Valley resident, in 2001 moved to a small farm in Harvard with an old apple orchard.
     She writes: "I knew as little about myself, my ability to love, as I did about growing apples. The prior owners left me a half-sheet of paper with the names of apple varieties by row, but no manual for growing them. The first time I walked through the orchard, I couldn't find any fruit. Wild sumac and thorny brambles crawled between the trees; bittersweet and poison ivy vines snaked around the trunks. I had to learn to prune, graft, spray, and identify the myriad insects that make apple growing particularly difficult in humid New England.
     "Likewise, I had no map for cultivating happiness. I was leaving a marriage of twenty years to Paul Matisse, the grandson of Henri Matisse. I met Paul in Kyoto, Japan where I was training in the Noh Theater after college. We had three children together, but this marriage that began with so much beauty and tenderness ultimately failed us both. Inspired by a group of holistic apple growers, I brought the orchard back to fruitful production and Old Frog Pond Farm became the first certified organic pick-your-own apple orchard in Massachusetts. What I could never have imagined was that in bringing the orchard back to health, a community of artists, farmers, and spiritual seekers would grow around me."
     Linda's artwork includes indoor and outdoor bronze sculpture, public installations, two chapbooks of poetry and sculpture, and the letterpress book Winter Air. Her work is in the collections of the Boston Public Library; Pierpont Morgan Library; Hechinger Tool Collection in Washington, D.C.; Harvard University; Town of Littleton, New Hampshire; Acton Arboretum, Acton, Mass.; Ten Acre Country Day School in Wellesley, Mass.; and many private collections.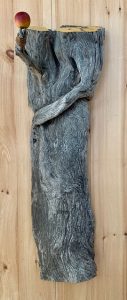 When We Were Trees, one of Linda's sculptures.
     An organic apple grower, she is well respected by an elite holistic apple growing community, attends conferences, presents workshops, and contributes to a holistic apple growers' forum. She lives with her partner at Old Frog Pond Farm in Harvard. In addition to pick-your-own fruit in the fall, the farm offers music concerts, poetry readings, African drumming, daily meditation, solstice fires, and hosts the occasional memorial services and wedding. She is seeking a publisher for her 54,000-word manuscript Naked to the Core: A Memoir of Apples, Art, and Spirit.—PM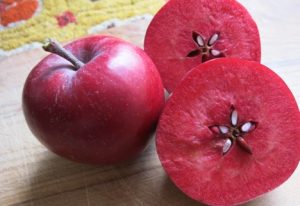 The Almata Apple, A Red-Fleshed Apple grown at Old Frog Pond Farm
Apples are one of the earth's oldest fruits. Their seeds traveled in horses' bellies from the forests of Kazakhstan throughout Asia, trekked with William the Conqueror through Europe to England, and journeyed to America in the pockets of the Pilgrims. A publication from 1905 listed 17,000 different cultivars of apples in North America. But all that may be changing.
A recent article in the New York Times, "Fire Blight Spreads Northward, Threatening Apple Orchards," describes one of the reasons those of us who love apples are alarmed. Fire blight is a bacterial disease that once inside the vascular system of a tree, travels to the root and throughout every branch, killing the tree. Fire blight spreads through an orchard in spring when the flower buds are open, the disease carried by bees and other pollinators from blossom to blossom, from tree to tree. Our warming temperatures combined with wet springs have made this disease a serious threat.
Commercial orchardists have always used Streptomycin to prevent fire blight, but apple trees are becoming resistant to antibiotics. Organic orchards, like Old Frog Pond Farm in Harvard, where I am the orchardist, rely on good hygiene, removing the telltale crooked end of a twig or the section of a branch with blackened bark, another sign of infection. But now, fire blight is killing thousands of trees in the Champlain Valley and in parts of Maine, areas where it was never before a problem. Furthermore, scientists are finding that once a bacterium becomes resistant to an antibiotic, it passes on this information to other bacteria, its own offspring, as well as across bacterial species!
Henry David Thoreau was a great admirer of apples, and began his essay Wild Apples with the words:
It is remarkable how closely the history of the apple-tree is connected with that of man. The geologist tells us that the order of the Rosaceœ, which includes the Apple, also the true Grasses, and the Labiatœ, or Mints, were introduced only a short time previous to the appearance of man on the globe.
As our medical world is finding that some bacterial infections in humans are becoming resistant to the standard antibiotic protocols, it comes as no surprise that the resistance is also happening to apples.
Until this spring, Tower Hill Botanic Garden in Boylston, Mass., grew one hundred-and-nineteen varieties of apples—two trees of each variety. When I first saw the trees back in 2008, I wasn't sure what I was looking at. They were not the multi-branched trees I was accustomed to seeing. I later learned they had been pruned to keep their canopy light and airy: good air circulation is a way to help prevent disease in fruit trees. These trees were not cultivated for fruit production, but for the scion wood they produced. Scions are thin snips of first-year growth, usually about a foot in length, that one cuts from a tree in February when the tree is dormant, and in the spring grafts onto a rootstock or an apple tree branch in order to propagate that particular apple variety.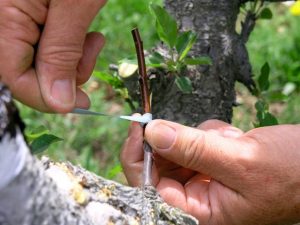 Attaching Scion Wood to an Apple Branch
For like humans, apples are the product of cross-fertilization, and seeds from an apple produce unique varieties of apples. To grow the same variety of apple, orchardists use scion wood. Tower Hill has sent scion wood to apple growers all over the country in order to share heirloom varieties. Ten years ago, I ordered quite a few heirloom Massachusetts varieties and grafted them onto rootstocks so I could grow these apples at our farm.
Tower Hill's apple trees were cut down this fall due to an outbreak of fire blight. Before removing the trees however, their horticulturalist cut scion wood from every tree and arranged with John Bunker, Maine's heirloom apple detective and the head of Fedco Trees, to have the scions grafted onto a disease-resistant rootstock, and grown out for a year in Maine before being sent back to Tower Hill to be planted. The good news is Tower Hill will continue to be a repository for this important collection of heirloom New England apples.
Apples are grown on almost every continent because of the diversity of their species. Today, the banana, propagated commercially to only one species, is in danger of going extinct. Growers have tried using different chemicals to combat the fungus that is ravaging the banana, but they have not been successful. I believe we need to encourage diversity and refuse the use of poisons as a way to grow our food. The Roxbury Russet (c. 1650), Westfield-Seek-No-Further (early 1700's), Hubbardston Nonesuch (c. 1835), and Hunt Russet (1750's) are a few of Massachusetts' many early apple varieties. These apples are inextricably tied to our history. We need to take Thoreau's words to heart lest not only the apple's appearance, but its disappearance, be intimately tied with our own.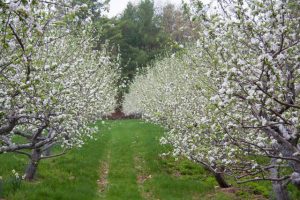 —Linda Hoffman © 2020