George Chigas: Writing in at Least Two Lanes
As we continue to build the "Literary Lowell+" section of this blog site, this addition is not a new name around Greater Lowell. George Chigas, Ph.D., is Associate Teaching Professor in the Department of World Languages & Cultures at UMass Lowell. George has been a contributor to this blog and has a poem in the blog anthology History As It Happens (2017).Born in Lowell and having grown up in the city and then Chelmsford, Mass., George has always been writing in a creative way even as his focus turned scholarly. Historian Bob Forrant of UML is in our ears as we employ a broader construction of "writer" in the region, meaning that we want to include persons who may not write novels and poems but who write as part of their career or as an avocation. We'll do better on this subject in 2020 as we expand coverage of the people who write for media outlets, publish academic articles, feed blogs, and work in forms like film and video scripts and plays. We interviewed George to get a short version of his story up until now. We know there will be more.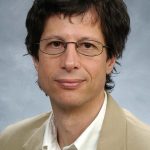 George, you've been writing for many years, both personal writing and for research/scholarship. Please summarize your publications to date and tell us what you are working on now if you can share the information.
In terms of creative writing, my first published poem was "Flashes of Kerouac" published as a broadside by Paul Marion's Loom Press in 1981. There's a whole life's story in the story of that one poem's writing and publication. Next on the list would be a chapbook of poems called Chanthy's Garden, published by Loom Press in 1986, that describes meeting my Cambodian wife and her family in Lowell. In the last ten years or so, I've been working on several autobiographical stories. I self-published the first one, Book of Matthew, in 2010.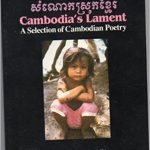 I started studying Cambodian language and literature in the late 1980s and self-published two bilingual books of translations, poems written by Cambodian survivors of the genocide, Cambodia's Lament in 1991 and Resolute Heart in 1994. In the late 1990s I began to translate a well-known Cambodian epic poem, Tum Teav, that is often compared to Romeo and Juliet in terms of the general plot. The translation and literary analysis, which became my Ph.D. dissertation for the School of Oriental and African Studies (SOAS) at the University of London, was published by the Documentation Center of Cambodia (DC-Cam) in 2005.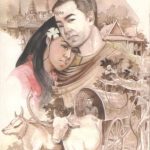 Tum Teav book cover.
I'm now working with a new generation of Cambodian women writer-activists based in Phnom Penh who are writing Cambodia's first feminist literature. I've translated several of their stories into English and have given talks on this new writing at the Association of Asian Studies (AAS) conference 2018 and at the Gatty Lecture Series at Cornell University in 2019.
What's it been like to write in two lanes, if we can say it that way? You did a lot of poetry and fiction earlier. Is there still room for those forms of writing aside from your academic work?
Writing and language has always been my primary medium for trying to make sense of the world and my own life. At different times, different kinds of writing and language have taken precedence for one reason or another. In the 1980s, when I was in my twenties and life seemed too much to handle, it was poetry and creative writing. By the mid-1990s, when I reached my mid-thirties and I was ready to start a family and a formal career, academic writing became useful. (And creative writing, which I can't live without, even if it's letter writing or journal writing, sadly had to take a back seat.) In the next phase of my life (not far away), I plan to return to creative writing, where it all began and where my heart has always been.
What's your take on Lowell as a city of writers going back to the 19th century when Lowell people were doing their own writing and the prominence of the city's industry drew well known authors of that time?
I'm one of those people who keeps coming back to Lowell. My parents were born and grew up in the Acre, my father on Mt. Washington Street and my mother on Arlington Street. We moved to the Highlands on Sanders Avenue in the 1960s, and Jack Kerouac lived about five houses up the street next to my best friend. He came to our house with his first biographer Charles Jarvis (a friend of my father's) for Greek Easter one year and gave my father signed copies of Satori in Paris and Vanity of Duluoz. The books sat on my father's bookshelf unread until years later I pulled one down and began a life-long fascination with the art of "spontaneous prose." Now that our kids are grown, my wife and I plan to move, and I would like nothing better to buy a house on Arlington Street or Mt. Washington Street, which also happens to be close to UML south campus where I teach. Lowell is not perfect by a long shot, but the Cambodian community is there; many of our oldest and best friends are there; the Angkor Dance Troupe, which means so much to my wife and I, is there; Enterprise Bank, where my uncle has a room named after him, is there; the Cambodian Mutual Assistance Association (CMAA), where I first met my wife in 1985, is there; etc. Maybe I'm just being overly romantic, but maybe that's what happens when you reach your 60s. Sorry, I may not have answered your question.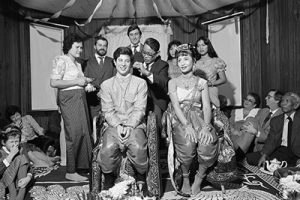 Wedding of Thida Leoung and George Chigas (photo by James Higgins)
You do a lot of work in the Asian community. Any thoughts about the new writing coming out out young or old SE Asian writers?
What excites (inspires) me most now about the Lowell Cambodian community is the way the next generation (the children of our friends) are starting to take the lead in different cultural educational, social service, etc., institutions. These young people bring a unique and valuable perspective to the city that combines a range of influences, from the legacy of their parents' lives as traumatized refugees fleeing Cambodia to their own struggles to make a place for themselves in the classrooms, on the streets, and on the performance stages of Lowell. In that mix, young Cambodian-American writers and artists are finding their voices and making themselves heard. This is something I'm very interested in and try to follow as closely as I can.
Just tell us anything that's on your mind. 
There's a lot to learn about Lowell. And I'm anxious to learn more.