Hannah Arendt's Insight Applies: Some People Will Not Comply
Hannah Arendt (web photo courtesy of the L.A. Times)
Certain national observers have been saying for some time that America is in a state of emergency, and many of us have felt like that since late 2016. This is no normal time. The policy disruption at the federal level is so continuously corrupt and cruel, due to the combined power of the Executive and the US Senate's majority-based rules, that any one voter can feel inadequate in attempting to resist. But the respected analyst of political theory and practice Hannah Arendt (1906-1975) believed that resistance begins with one person refusing to comply with what he or she sees as evil social activity, with harmful public policy, with any inhumane action being done privately or in the name of the people as a whole. Of course this view raises questions about staying within the bounds of laws when protesting or choosing civil disobedience with its consequences.
Think about Hong Kong right now. Think about Black Lives Matter. Think about Moms Demand Action for gun safety. Think about the Women's March in Washington, D.C., in 2017. Think about anti-abortion rallies. Think about the Right to Choose marches. Think about occupation of public land by anti-government activists in the U.S. West. Think about Moral Mondays in North Carolina. Think about resistance to the federal government separating children from parents in families seeking asylum on the Southwest border. Think about Blue Lives Matter. Think about Greenpeace. Think about the Equal Rights Amendment and Voting Rights and Civil Rights. Some people will not comply. Some people will not accept constraints or the status quo. Not everyone will agree on what is evil or dangerous or unfair. The point is that there is a protected sphere to resist. When that freedom to speak, publish, assemble, and act on one's thoughts is threatened or lost, the society becomes something else, something dangerous. The point is that in our country we get to debate the questions and express our desire at the ballot box before going to the streets.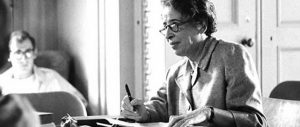 Arendt is a controversial figure herself, and scholars argue about her strongly held views on human nature, fascism, the refugee experience (she was one), the state of Israel, and more. Take what makes sense to you from her analysis and decide for yourself about the rest. There is plenty to read. I first encountered her in a course on international politics at Merrimack College. We read and discussed her book The Origins of Totalitarianism (1951), a classic work of political theory. This is not abstract, high falutin' stuff. These behaviors, good and bad, begin at the grassroots in everyday decisions. They expand outward and upward either way. The small things count . . . and add up to larger trends and norms.
Brainpickings.org revisits the insights and experience of Arendt in this post today making the rounds on Facebook.