'America, My America' by Chath pierSath
On the last day of National Poetry Month, we have a poem by writer and painter Chath pierSath who lived in Lowell many years and earned a master's degree in community social psychology from UMass Lowell. He's based on a vegetable-and-fruit farm in Bolton now and regularly travels to Cambodia and France. Chath survived the Khmer Rouge genocide in Cambodia. He writes about his early life in this excerpt from a recent essay:
I was born Uy Bun Thoeun in Cambodia in 1970. I came to the United States in 1981 as a refugee, a survivor of the Khmer Rouge genocide that killed millions of innocent people in my home country. Alongside American soldiers in the Vietnam War, my father fought against the Vietcong, the guerrilla forces opposing the U.S. and South Vietnamese armies. He was killed in a battle against the Vietcong when I was two years old.
     The Khmer Rouge came to power in Cambodia when I was seven. In three years, eight months, and twenty days under their rule, the Khmer Rouge turned the country into Year Zero, full of "Killing Fields" and torture prisons. Their goal was to make a new agrarian society which mimicked that of the Maoist Cultural Revolution. In China, vast numbers of people were driven out of their cities and villages to work in the rice fields and dig irrigation canals. During this time, I was not allowed to attend school. Along with other children my age, I was put to work in a labor camp and given little or nothing to eat.
     By 1979, with the Americans out of Vietnam, the Vietcong invaded Cambodia and drove the Khmer Rouge into the frontier. My family was freed to search for separated members. We returned to our home village, where my oldest brother was smuggling people out of Cambodia into a refugee camp on the Thai-Cambodian border. That's how I fled. My brother took his wife first and then he came for my second-oldest sister and me. We lived in the camp for one year before our application to settle in the U.S. was accepted and processed.
     The U.S. adopted, raised, and educated me. In America, I was able to attend school for the first time. I became literate in English instead of Khmer, my maternal tongue. I can speak Khmer, but I cannot read and write the language. I lived first in Boulder and then Denver, Colorado, until I completed high school.  . . .
Here's a poem from Chath's new collection of work called "Cambodian Body Electric," which is in the market being considered by publishers. — PM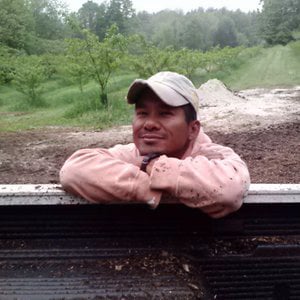 America, My America
Indebted to you, America,
My eyes aren't enough, for I have seen freedom.
My heart you can take
For I have felt hatred and war.
My gratitude in every limb born to you and for you,
Perhaps is all I have to give.
Take my ears for I have heard the Liberty Bell from Mount Rushmore.
Mark me a donor. Take my spleen, kidneys, and lungs.
My privileged American life can take my eyes, after all.
My arms and legs, I am willing to sacrifice.
Let me die for freedom and democracy,
For peace and prosperity, justice and liberty for all.
I salute you, America, for helping my dream take flight,
Letting me be, see and become, to work and play,
Eat and sleep to life's breathlessly beautiful hills,
Mountains, valleys, above and below.
"This land is your land . . . this land is my land,"
Field to field, "from California to the New York Island,"
Wheat and rye, Iowan corn, grassland,
Native sacred paradise,
On earth and beyond the sky,
Galaxy, and beyond every universe man must explore,
Stars and planets near and far.
To every free spirit, may American-born freedom roar,
Echoing far and wide until all
Tyranny be gone, like doubts and fears,
Gone from the ears I have given America.
From the eyes that witnessed human cruelty,
From the heart that felt freedom, the highway
Paved for kings and queens, the magician
Who appears and disappears by his own magic,
I give all of me, the entirety.
Claim me, America,
a sacrifice worth more than the life I knew before.