Geoffrey Douglas of UMass Lowell Has a New Book Due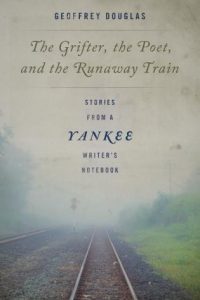 Geoffrey Douglas, long time staff writer and sometime adjunct professor at UMass Lowell, has a new book forthcoming from Globe Pequot Press. A compilation of many of his Yankee magazine stories written over more than 20 years, the book has one selection of special Lowell interest and which I want to mention at the risk of shameless self-promotion. Geoffrey wrote a profile of me for Yankee ten years ago in which he highlighted my writing and community work in Lowell. The piece not only made the cut for the contents, but also found its way into the title. The media release below from Globe Pequot skips over the article because it's probably not gritty enough for a news hook. But speaking of news hooks, Geoffrey went to prep school with John Kerry and Robert Mueller and wrote about those years in his book The Classmates: Privilege, Chaos, and the End of an Era (2008). Please consider Geoffrey's book for summer reading or a graduation or Father's Day gift. Watch this space for updates about Geoffrey's author talks and book signings.–PM
The Grifter, the Poet, and the Runaway Train: Stories from a Yankee Writer's Notebook
by Geoffrey Douglas
978-1-4930-4148-0 • Hardback • May 2019 $29.95 • 288 pages
In a Massachusetts town, a school shooting is barely averted by a teacher's courage and caring. In a big-city hospital, a desperately sick infant becomes a pawn between powerful forces in a high-tech medical war. In central Maine, the state's poorest city turns against itself under the crush of an immigrant surge. In New Hampshire's ski country, a young wife copes with the devastation of a suddenly quadriplegic husband. In Vermont, a reporter's one-man crusade against hate will earn him a Pulitzer Prize.
There are more stories like these — seventeen in all — in Geoffrey Douglas's newest book, The Grifter, The Poet, and The Runaway Train: Stories From a Yankee Writer's Notebook (Globe Pequot), a collection of his pieces in Yankee Magazine, written over the past twenty years. Some recount public events, widely reported; others are more private, the stories of men and women surviving, facing choices, living life: the last race of a luckless small-time jockey; a local police chief's terrible moral quandary; a young man's tortured path toward suicide. All of them, by subject and by design, are stories for today.
Douglas is the author of four previous nonfiction books, each of them widely reviewed: "A brilliant book that should be read by anyone who has a stake in the world in which we live" (The Los Angeles Times, of Dead Opposite: The Lives and Loss of Two American Boys). "Fascinating…an impressive and moving victory" (The New York Times, of Class: The Wreckage of An American Family). "Worthy of comparison to such classics of reporting as David Halberstam's 'Summer of '49" (Kirkus Reviews, of The Game of Their Lives, later adapted for a 2005 movie of the same name).
A former Bread Loaf fellow, National Magazine Award finalist and adjunct professor of writing at the University of Massachusetts/Lowell, Douglas has been a Yankee contributorsince the late 1990s. Many of the stories here were jointly conceived with long-time Yankee editor Mel Allen — a partnership the two will discuss further in a series of joint appearances. Geoffrey Douglas's website is: https://geoffreydouglasauthor.com/ The author is available for interview, signings, and media engagements. Please direct media inquiries to Emily Cable: ecable@rowman.com