Febo: Choosing Joy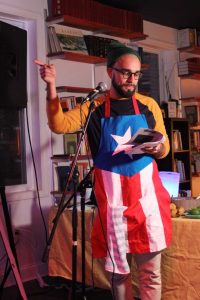 I met Anthony Febo or Febo, as he is known professionally, ("Yes, it's very Bono, Madonna, Seal of me," he said when I asked his preference for a name in this update about his work.)—well, I met Febo in Lowell, Mass., when performance poetry/slam poetry/spoken word was coming into its own in the city about ten years ago. From the start it was clear to me that he had a gift for writing and this form of presentation. And he has tremendous energy, which makes him an outstanding ambassador for poetry. His educational background is Lowell High School and Middlesex Community College.
He got married this summer to Carlie Febo, who is also his artistic partner. Their wedding had a name, #sayyesandcry, and he said "it was the most beautiful collection of loving people assembled on Earth." They live in East Cambridge now with an orange cat named Finn and a French Bulldog, Oscar.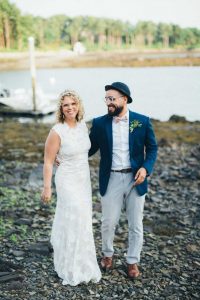 Febo's artistic mission statement reaches high: "I explore what it means to actively choose joy in the face of what is trying to break you. Using spoken word poetry, aspects of theatre, and elements of cooking, I examine issues such as toxic masculinity, family and mental health, culture and identity, and the role representation plays into a person's development."
In Lowell, he said the award-winning slam group FreeVerse! is recruiting more young people. About 20 people turned out for a meet-and-greet in November. Douglas Bishop, Ricky Orng, and Sara Massey lead the group these days with Febo helping out as needed. Follow FreeVerse! on Facebook for event news.
The Massachusetts Cultural Council is funding a coalition of youth spoken word leaders for three years in Boston, Worcester, and for the first time in Lowell, which means FreeVerse! will be involved. This is a major cultural coup and substantial validation for the artistic and organizing talent of Lowell participants.
Febo was recently the keynote speaker at Middlesex Community College's LitCon, where he spoke about the power of "AND" through collaboration and "through different identities that we hold in our own body." He may return to MCC in the spring to work with students.
He describes himself as a Puerto Rican artist who lives at the intersection of poetry, theatre, performance art, mixed media, and education. For 11 years, he has been a "dedicated learner of the arts and of youth education," devoting his time to working with nonprofits in Lowell and Greater Boston. He coaches youth slam team and tours the country as a solo artist as well as a member of the cooking-and-poetry duo Adobo-Fish-Sauce.
Let's pause here and go back to the previous line: "cooking-and-poetry duo." With another Lowell roots poet, Ricky Orng, he has developed an innovative stage act that is gaining followers.
Febo explained: "This past fall I went on a 12-school college tour in the Midwest called Onfindingjoy: A Tour. This show had live cooking, which I also do with Adobo-Fish-Sauce, dancing, theatre, props, and a lot of vulnerability, serving as the inspiration for my first full-length book coming out next year from Game Over Books, based near Boston.
"Next year is shaping up to be amazing with the book coming out, the school opening, and also a five-day residency at The Run of the Mills in the Mills Gallery at the Boston Center for the Arts. Ricky Orng and I will be at the gallery from February 6th to the 10th. We're transforming the gallery into a home and will have private House Warmings during the week along with a public performance of new work we'll have created in our time there on Saturday, February 9th." He and Ricky are working on a collection of poems that will double as a cookbook, but there's no publication date for this yet.
As an educator, Febo is a founding member of a new project-based public high school in Somerville, Mass., called Powderhouse Studios, an XQ school . The school will open in Fall 2019 with Febo engaging young people with the program of study that he's developing: "The Growth Triforce // understanding routine, the poetry, and slinging."
Here are video links to see more from Febo, whose Instagram is @thisisfebo :
Poem In The Voice Of The Cat I Stayed With For 10 Days
Wonder What Ricky Martin Is Doing Right Now