Blizzard report: Jan 4, 2018
Time for another "storm blog" in the tradition of our team post of January 26, 2015 on the Blizzard of '15. We'll collectively update it through the day as the storm progresses.
I begin this post at 6 a.m. on Thursday, January 4, 2018. The temperature is 17 degrees – toasty by recent standards – and the snow is supposed to begin later this morning. Yesterday afternoon Lowell cancelled school for today and the city imposed a Snow Emergency Parking Ban effective at midnight. Also, the Massachusetts Court system closed all courthouses for the day.
Here is the National Weather Forecast for Lowell, last updated at 3:17 a.m.:
Thursday: Snow. The snow could be heavy at times. Areas of blowing snow after 11am. High near 28. Blustery, with a north wind 8 to 13 mph increasing to 20 to 25 mph in the afternoon. Winds could gust as high as 39 mph. Chance of precipitation is 100%. New snow accumulation of 10 to 14 inches possible.
Thursday Night: Snow likely, mainly before 10pm. Areas of blowing snow before 11pm. Mostly cloudy, with a low around 7. Wind chill values as low as -1. Blustery, with a west wind 15 to 24 mph, with gusts as high as 44 mph. Chance of precipitation is 70%. New snow accumulation of around an inch possible.
Friday: Partly sunny, with a high near 11. Wind chill values as low as -10. West wind 14 to 16 mph, with gusts as high as 37 mph.
By way of background, the weather leading up to this storm has been dominated by extreme cold. At 6 a.m. on Monday (New Year's Day) it was minus 3 degrees; on Tuesday it was minus 6. This has caused numerous infrastructure problems. The heating system at Lowell High was working so sporadically on Tuesday that all high school classes were cancelled on Tuesday. On Wednesday, despite temperatures up into the low 20s, there was a major water main break at the Lord Overpass which caused a number of streets to be closed which in turn resulted in major traffic tie ups throughout downtown.
When the snow does stop, which will be sometime late tonight, extreme cold temperatures will return, lasting through the weekend.
Check back for updates through the storm . . .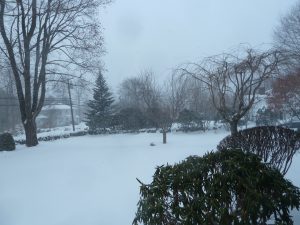 UPDATE: Thursday at 9:00am by Marie..
The snowflakes started falling at 7:30am here in North Tewksbury… light and fine at first but in ten minutes the flakes were thicker as a dense veil of whiteness surrounded the house. Predictions for times of a 1-3 inches an hour snowfall seem more real now. Now the feeling of being in the Blizzard of 2018 or the so-called "bombogenesis" of 2018 is taking hold. With "no school" calls throughout the area and calls to stay-off the roads, our neighborhood is eerily quiet… just before the flakes fell a Tewksbury firetruck and ambulance sped down Fiske Street but not much since… perhaps a few words from the opening of John Greenleaf Whittier's Snowbound are fitting now:
"Announced by all the trumpets of the sky,
Arrives the snow…"
or maybe the lyrics of the Cahn/Styne seasonal favorite..
"Let it snow! Let it snow! Let it snow!"
Time for breakfast and taking down a Christmas tree… I'll be back.
UPDATE
11:07 AM. Bird bulletin from The Flats or South End or Edge of Back Central or Edge of Uptown or South Common Historic District—choose your favorite. The snow is blowing and slanting thickly enough to make a chalky view of the back yard. Lots of birds are darting around between the feeders on my neighbor's apple tree and a standing feeder in that yard. I put out a spread of torn-up bread on a square of cardboard to keep it off the ground, but the snow is falling so thickly that the bread was getting covered before the birds could get at it. I then moved the piece of cardboard to a higher location, which seemed to work because the birds made quick work of the food. I came back with some crushed Cheerios, which drew a crowd. I don't know bird names like my friend Henri Marchand, who has pictures of his yard birds with names attached on Facebook. Good for him. I know sizes: small, medium, large—and can name sparrows, robins, crows, blue jays, cardinals. But nuthatches, downy woodpeckers, chickadees? I don't have a clue. Some of the bossy pigeons that hang out in the area swooped into the apple tree zone to get seeds that dropped from the feeders to the ground. A cardinal grabbed a crust of bread from my makeshift feeder and headed for one of the bushy evergreens to eat undercover. It was a brownish cardinal, not the bright red. I forget which color denotes female and male. But their beaks and head are easy to identify. The birds must have some good anti-freeze in their circulatory systems. There's been steady activity since the snow started around 8 AM. I thought the storm was due at 10 AM today?
I've got tomato and macaroni soup on the stove, always a good thing to make in a blizzard.
Right now, we've got a cop cruiser with flashing lights and a two truck guy hooking up a dark sedan that was the only car left on Highland Street after the Snow Emergency went into effect. I feel badly to see somebody's car towed, but don't feel that badly because the car would have made a mess near our driveway as each plow had to swerve around it and leave lots of snow at the bottom of our exit way.
The wind has picked up in the past half hour. Really whipping in mixed up directions. Hard to tell how much snow has fallen so far, maybe 3 inches.
UPDATE: Thursday at 3:40pm by Marie
Well, Boston has already cancelled school for Friday as the areas around Boston and the coast are battered by snow, wind, flooding and coastal surges. I expect many more cancellations across the region… it needs to be about safety. In my neighborhood of N. Tewksbury, traffic picked up a bit in the late morning but now the street is desolate except for the occasional passage of the plows. As the day darkens, the wind continues to gust and sweep the blowing snow into drifts painting and layering the garage door, tree trunks, shrubs and the stone wall with the "blizzard pearl" of Winter Storm Grayson as it has been named. After looking at some snowfall numbers from NECN, I tried to measure the accumulation here… the drift was nearly 11 inches so I'm guessing an actual of about 8 inches in our environs. Our BOS Chair just happens to be a hard-working official with MassDOT whose coverage catchment includes communities from near Cambridge up to Newburyport… he noted to me just a few minuted ago… " with winds over 40 miles an hour in most locations it is tough to get a correct measurement. We had a measurement at 2 pm in Tewksbury of 7.5 inches of snow and it continues to come down between 1 to 3 inches for the next hour or so. We are going to get more than they predicted. My guess when it is all over is between 12 to 16 inches." So that's what's ahead for us… I'm thankful for the work of those out in these wicked elements wrought by Mother Nature… for having heat and power… and as the wind gusts howl outside, I hope for a safe overnight. BTW – the DOW is up over 150 with an historic high of over 25,075 as if oblivious of what's happening in our real world.
Update at 3:50 PM. South Common Historic District checking in. I don't know why, but I'm caught up with the local birds today. They have stayed airborne all through the blizzard, frantically competing for the inside position at the feeders my neighbor maintains for them. Each time I look out the window, I see a dozen small brown birds jockeying for a better spot to nab a seed or nip some suet. Scouts kept coming back to the old wire fence between our yards where I had put bread out earlier. Looking for something else to give them, I mixed up some oat cereal and way-old raisins that were still moist even if stuck together in the container. This version of "gorp" was a big hit when I put it out in a cake-sized plastic tray out of the wind as best as I could arrange it. I don't know what the Green rules are for feeding the animals in winter, but I followed an instinct.
The wind is steady but not violent. We don't have any branches down on our property. The sustained gusts are strong enough to have built up drifts in places of over a foot.
Latest Channel 4 TV weather report called for snow and wind until 7 PM, and then a winding down of the storm—followed by harsh cold tomorrow.
UDDATE: 8:30 p.m. by Dick
I just came in from my third snow removal excursion of the day. It looks like the snow has stopped, but the wind is still gusty and strong and the temperature is heading down as predicted (from 24 degrees an hour ago to 22 degrees now).
At 11am I went out to shovel but first used a ruler to measure the depth of the snow. At that time, it was 4 inches. I went out again at 4pm, this time with the snow blower. The portion of the drive I had previously cleared now had 8 inches. That makes a foot of snow with more still falling. The wind has also been strong with the temperature holding at 24 degrees. This last time, there was a bit more than an inch of additional snow, but its depth varied due to drifting from the wind.
In between snow removal sessions, I watched the movie Dunkirk which was excellent. Directed by Christopher Nolan (Batman Trilogy; Inception; multiple Academy Awards) and staring a cast of relative unknowns, it is a great movie and a great story.
Shortly after 5pm, a robocall came announcing no school in Lowell tomorrow. Another robocall just came regarding trash pickup. Already moved back a day because of the New Year's Day holiday, it is now pushed back another day. So here in the Highlands, were trash is normally collected on Thursday, it will be picked up on Saturday. The call also said next week's trash schedule will be one day behind.
The 6pm news on all the Boston TV storms is all about the storm. The biggest news was extreme coastal flooding due to high tide and heavy winds. Even downtown Boston near the Aquarium and in the Seaport District had three feet of seawater on the streets. The weather forecasters say the snow is winding down but that winds will continue very heavy overnight. We'll be greeted in the morning by single digit temperatures with it only getting colder over the weekend. That means I'll make one more trip out to clean what will hopefully be the last of the snow from this storm.
At 8 pm, the Massachusetts Court Closings Twitter account posted the following: Courts in the following counties will have a delayed opening of 10 a.m. on Friday, January 5: Bristol, Suffolk, Essex, Middlesex, Norfolk, Plymouth & Worcester. Courts in all other counties will be open at their usual time. So that means the Middlesex North Registry of Deeds will open at 10am tomorrow.
All for now.