Why do we name all our storms these days? It seemed easier just to name hurricanes! With storm Stella we hear of a "weather bomb" or 'bombogenesis' – it lacks the poetics of Ralph Waldo Emerson: "Announced by all the trumpets of the sky…" or John Greenleaf Whittier: "The wind blew east; we heard the roar…"
It started as a steady "small-flake" snowfall before dawn this morning. Don't be deceived that the forecast call was overblown! The brunt of Stella's effect will increase in the Merrimack Valley as the day goes on, in fact as I write the wind is picking up and the visibility is diminishing. In fact, the wind is howling!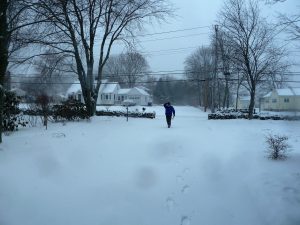 A walk to the mailbox at 11am.
As we get into the 12 o'clock hour, a few inches of thick, wallpaper-paste like snow has settled into North Tewksbury clinging to shrubs, filling the driveways. It's windy and sometimes almost white-out conditions with the blowing snow but still we've not had the strongest gusts predicted for today. Across the Commonwealth authorities anticipate high tide problems, the possibility of down limbs, trees and power lines and the inevitable accidents despite warnings to stay off the roads and to beware the plows! With the let-up not in sight until around 6pm, Stella has many hours to make this March 14, 2017 storm memorable!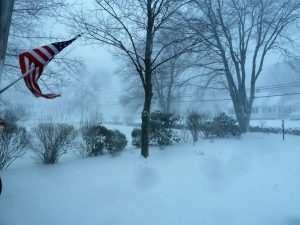 At 12 noon deteriorating conditions.
In my book of storm memories, one of the worst was from a storm around St. Patrick's Day in 1956… snow mounds everywhere! Uncle Henry's car slide off our then much higher drive-way on Burnham Road. Nothing though comes close to the memories from the Blizzard of '78! Now that was a storm.
I'll have more later! Oh, yes – that wind is howling!
An evening update:
The official snowfall call from the NWS/Boston for Tewksbury was 10.5 inches by 5pm. A few power flickers amid the howling winds and occasional white-out conditions along with a 30′ tree limb landing onto Fiske Street but now resting atop our stone wall and seeing a huge, old pine tree that lived across from our longtime family home on Burnham Road highlighted on the Channel 5 news as it rests on electrical wires… all added to my reservoir of snow storm memories. Stella is expected to fade and blow out to sea leaving frigid temps in her wake. She will not be missed.