Lord Overpass Walkabout on October 31st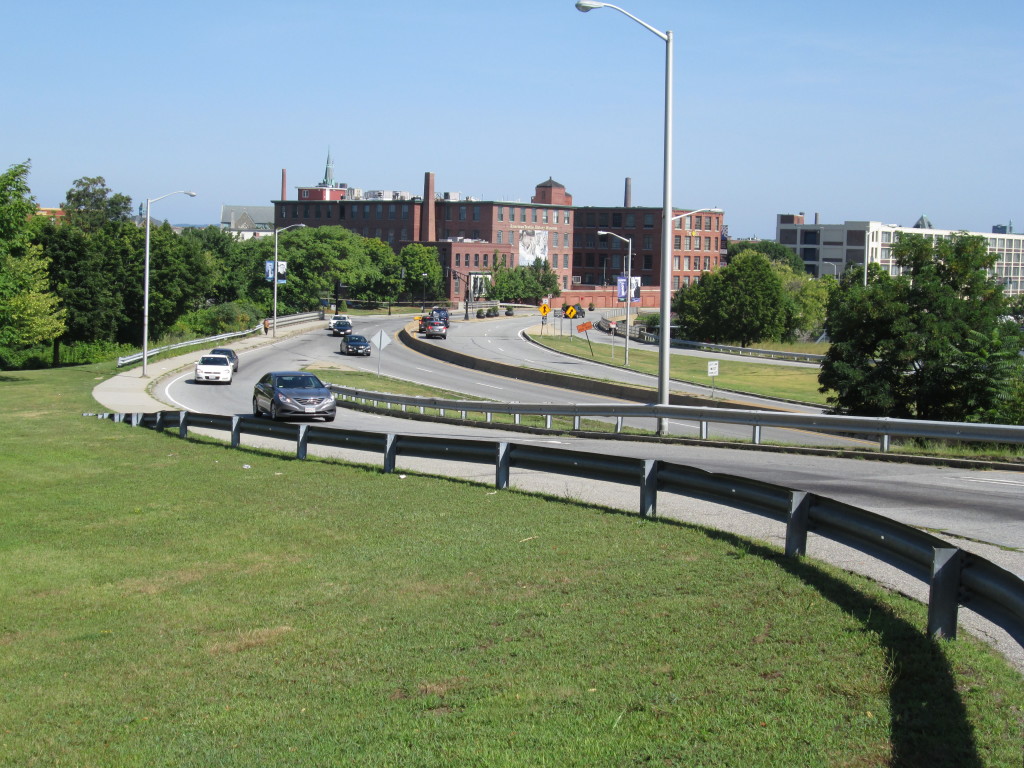 Save the date: Saturday, October 31, 2015 at 10 am for a Lord Overpass Walkabout starting from outside Lowell National Historical Park Visitor Center at 246 Market Street.
Massachusetts Department of Transportation is in the midst of planning major renovations to the Lord Overpass in Lowell, work that is directly related to the development of the Hamilton Canal District. Many of us are concerned that the millions of dollars that will be spent on this project will merely duplicate the car-centric design that now exists. We have urged city councilors at past Traffic Subcommittee meetings to seize this opportunity to make the area more conducive to walking and bicycling.
In response to our pleas to focus on pedestrians and bicyclists, councilors have instructed the city's Department of Planning and Development to incorporate public input into the planning process. Toward that end, DPD has scheduled a public meeting for Monday, November 16, 2015 at 6 pm at the Lowell Senior Center at Broadway & Fletcher.
In advance of this public meeting, we are organizing a group walk of the entire Lord Overpass area, because when it comes to talking about land use, nothing beats seeing, hearing, smelling, and feeling that land in person. Hence, the October 31st walk.
While the state's Lord Overpass project is limited to the overpass itself plus the extension of Jackson Street, the Lord Overpass is also the epicenter of a much larger economic, community, and cultural development opportunity for the city of Lowell. To maximize the potential of this area, it is critical that all of its parts be viewed as part of a bigger picture. The October 31st walk will help do that by viewing the following sites:
Lowell National Park visitor center
Hamilton Canal District
Mill No. 5
Lord Overpass
South Common
Gallagher Terminal
Lower Highlands business districts
Pawtucket Canal
MBTA/Pan Am railroad
Western Avenue Studios
Fletcher Street
Western Canal Walkway
American Textile History Museum
Whistler House Museum of Art
Arts League of Lowell Gallery
Smith Baker Center
New England Quilt Museum
And that's the approximate itinerary: From the National Park VC, through the Hamilton Canal District to Mill No. 5, up the ramp to the Lord Overpass then traversing it across Middlesex and Appleton Streets. From there to the South Common then across Thorndike to the Gallagher Terminal. From there, back over the Lord Overpass, crossing Chelmsford and Middlesex Street, then down the ramp to the intersection of Dutton and Thorndike. After crossing Fletcher Street, pass the Western Canal walkway and the Textile History Museum, then down along Dutton Street to the Whistler House, ALL Gallery, and Smith Baker Center. Then cross Dutton, go past the Quilt Museum, and finish at the Visitor Center.