Lowell Week in Review: October 26, 2014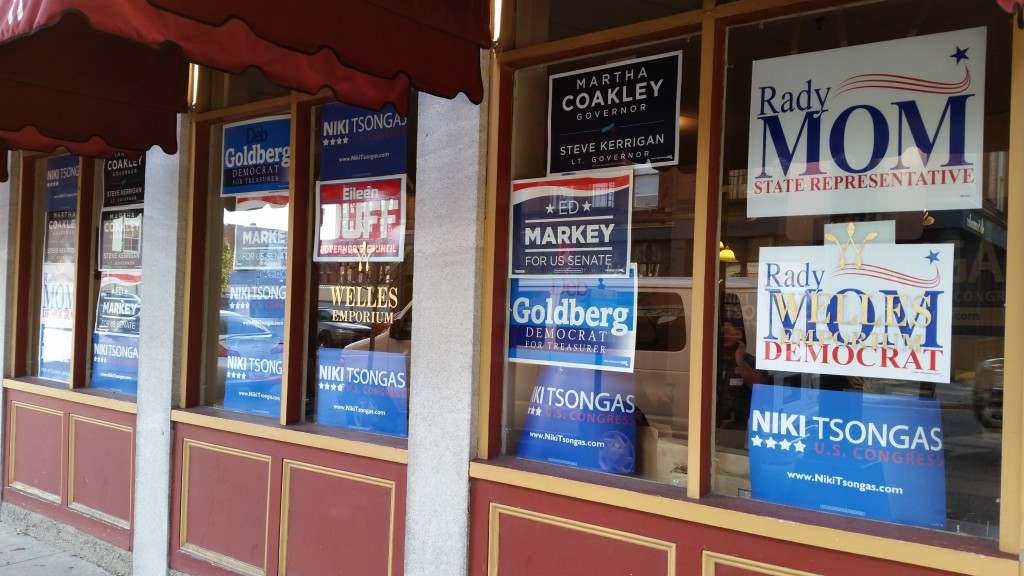 Election Day Approaching
With the state election just nine days away, the pace of campaigning is picking up.  Yesterday, Democratic gubernatorial candidate Martha Coakley and present Governor Deval Patrick came to Lowell for a campaign rally at the Democratic Party headquarters on Merrimack Street.  Also speaking to the crowd were Congresswomen Niki Tsongas, State Senator Eileen Donoghue and Democratic State Representative Candidate Rady Mom.  Elected officials in the crowd included Lowell City Councilors Ed Kennedy, John Leahy and Bill Martin along with former State Senator Steve Panagiotakos and former councilors Rithy Uong and Vesna Nuon.
In his remarks, Governor Patrick said we have to help Martha Coakley win on election day because we need a governor "who sees us all" and who has proposed a comprehensive program of early childhood education, a regional development strategy, and earned sick time for employees.  In contrast to that, Patrick continued, Coakley's Republican opponent (Baker) just calls for more tax breaks for businesses that don't need them.  Governor Patrick said of Baker that "he's singing the same words as before, just to a sweeter tune this time."
Governor Patrick closed with a story aimed at all the volunteers present who are knocking on doors and making phone calls in support of the Coakley candidacy.  He said just after announcing this past summer that he was willing to accept children refugees from Central America, he had a Saturday off so he drove himself to Home Depot to shop.  Seven people in the store commented to him on his decision on refugees.  One very angry guy in the checkout line let the governor and everyone nearby loudly know that he disagreed with that decision.  But the other six who spoke stopped the Governor in the aisles and said in whispers that they agreed with his decision.  The point of the story, according to the Governor, is that sometimes all we hear is the anger and that we all must learn to shout about things like justice and compassion.  He urged everyone to become stronger, more vocal advocates for the things we believe in and not just whisper our support.
Martha Coakley began her remarks by recalling her days in Lowell back in 1986 when she began working for the Middlesex DA's office and was assigned to the Lowell District Court.  She talked about a particularly difficult child abuse case in which the defendant was an older teenager with Down Syndrome.  Given the defendant's mental status, jail wasn't the right thing for him so she described a long process in which she was finally able to find an appropriate placement for him to receive the treatment he needed.  She used that story to illustrate her point that she will be the governor who will stand up for all of the people and do whatever she can to get them a fair shot at life.  She said Republicans don't care about most of those people and that's the difference in this election.
It was in 1986 that I first met Martha Coakley.  I was new to the practice of law and encountered her in the Lowell District Court.  Through the years we opposed each other in at least half a dozen cases.  She was a superb lawyer, but more than any other assistant district attorney I ever dealt with, her goal in every case was to reach a fair result.  That made a great impression on me and it has caused me to support her in her subsequent runs for elected office including this one for governor.
More recently, Coakley showed real leadership during the foreclosure crisis when Lowell and other cities were plagued by countless foreclosed houses that were abandoned by their owners and the foreclosing lenders and that became magnets for crime in the neighborhood.  The big banks that ended up owning but not caring for these properties were ignoring the pleas of neighbors and municipal officials, but then the Attorney General's Office got involved and the big banks started paying attention.  It was still a bad situation in Lowell but without Coakley's involvement it would have been a lot worse.
Lowell City Council
Tuesday night's meeting was brief and noncontroversial.  I posted my notes right after the meeting ended.
Breaching the Sampson Connector
Urban planning in the 1960s consisted of demolishing a lot of buildings to make way for new businesses and creating high speed roads to rapidly move people from downtown business districts to their suburban homes.  Well guess what?  When everyone moved to suburbia, there was no longer a need to visit downtown and so the department stores and doctor and lawyer offices soon followed behind.  Nothing new was built on those parcels cleared by urban renewal and the high speed access roads created dangerous obstacles to the people who continued to live in neighborhoods adjacent to downtown, cutting the business district off from potential customers.
Examples of both ill-advised policies are evident along the Sampson Connector which is also known as Dutton and Thorndike Streets.  Dutton Street originally ran straight across Fletcher and beyond, heading towards School Street.  Thorndike Street came from Billerica and ended at the Dutton and Fletcher Street intersection.  The Sampson Connector merged Dutton into Thorndike and expanded both to four lanes.  The speed limit is still 30mph but only the traffic lights keep vehicles at anything that's close to that speed.  This stretch of roadway doesn't even pretend to provide accommodations for pedestrians to walk along it, never mind safely cross it.  The urban renewal scar is the strip of open space alongside Dutton Street.  That once held boarding houses built for mill employees but they were demolished in the 1960s to make way for something better.  Well the space is still vacant.
While the Hamilton Canal District development should finally fill in the space left when the boarding houses were demolished sixty years ago, I'm not sure there's a plan in place to rectify the anti-pedestrian roadway.  The state just put up $15 million to redo the adjacent Lord Overpass.  It's my understanding that the city of Lowell's Planning Department will play a major role in the final design of this project.  It's critical that anyone who believes that this stretch of roadway should be made more pedestrian friendly speak out and let city councilors know the importance of this.  It's just not for some random walker or two.  The roadway as now configured cuts of the Hamilton Canal District and the rest of downtown from those who live in the Acre and the lower Highlands.  The distances involved are plenty short to walk but it's too dangerous so you end up taking your car or not going.  With the money already in place, now is the time to fix this.
Murals for Downtown
City Councilor Dan Rourke has a motion on the agenda for this Tuesday's city council meeting asking that the city explore ways to create more murals on the exterior of buildings in downtown.
Gerry Nutter provides some context for this motion and my co-blogger, Paul Marion, wrote a post about the origin on all the public sculpture in downtown Lowell.
I think this is a great idea.  There are already some murals around the downtown such as the one created by the Quilt Museum a few years ago.  There are several in the Acre and the downtown also has plenty of old commercial signs painted on the side of buildings that have assumed the status of artworks.
Philadelphia has a huge collection of exterior murals, so many that when I visited that city a few years ago, I got to choose from five different bus tours, each exploring a different neighborhood and its unique exterior art.  With all the artists and academic institutions in Lowell, this city seems like a great candidate to embrace this kind of public display of art and civic pride.
Monster Bash and Halloween Stroll
Congratulations to all who participated in yesterday's Monster Bash and Halloween Stroll.  I got downtown early for the Martha Coakley rally and really enjoyed hanging out on Merrimack Street watching all the kids walk by in their Halloween Costumes.  Downtown was fully alive and packed with families.  Lowell needs more events like that.