Kerouac Book Discussion @UMass Lowell: Open to Public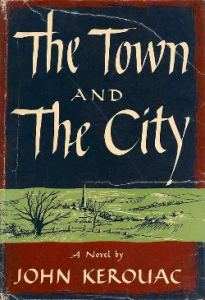 The UMass Lowell Libraries will host a free five-part reading and discussion series focusing on three of Jack Kerouac's Lowell-centric novels: "The Town and the City," "Visions of Gerard" and "Maggie Cassidy."
The series, which begins Jan. 29, will feature UMass Lowell English Prof. Todd Tietchen leading discussions of each selected book. Tietchen is a well-known Beat Generation scholar and the author of "The Cubalogues: Beat Writers in Revolutionary Havana." He recently appeared in a Radio France documentary about Kerouac, recorded in anticipation of the Cannes Film Festival premiere of the screen adaptation of Kerouac's most famous work, "On the Road." Tietchen will also be featured in a German documentary, "On Jack's Road," to be broadcast in Germany and France later this year, and has been interviewed about Kerouac by numerous media outlets, including the Boston Globe, Associated Press, Cineaste, Trois Couleurs and Beat Scene. Tietchen was one of the presenters during the 2012 Jack Kerouac Festival in Lowell that included the world premiere of Kerouac's only full-length play, "Beat Generation," which was produced by UMass Lowell and Merrimack Repertory Theatre. The sessions will be held on the dates and cover the book noted below:
Tuesday, Jan. 29 – "The Town and the City," Parts 1 and 2;
Tuesday, Feb.19 – "The Town and the City," Parts 3 to 5;
Tuesday, March 19 – "Visions of Gerard," public reading at Pollard Memorial Library in Lowell with the community group Lowell Celebrates Kerouac!;
Tuesday, April 9 – "Visions of Gerard;"
Tuesday, April 30 – "Maggie Cassidy."
All programs run from 7 to 9 p.m. and, unless otherwise noted, will be held at O'Leary Library Learning Commons at 61 Wilder St. on UMass Lowell's South Campus. The public reading on March 19 includes a tour of Pollard Memorial Library at 6 p.m. and the public reading will be from 6:30 to 8:30 p.m.
Support for the series is provided by the UMass Lowell English Department and the university's Office of Community and Cultural Affairs.
"We are excited to offer this reading and discussion series after the success of last spring's 'Making Sense of the American Civil War' series," said Sara Marks, instruction and outreach librarian at UMass Lowell.
Advance registration is not required, but highly encouraged. Those who pre-register will receive a copy of "The Town and the City" by mail. Free copies of the other titles will be distributed at the program. To obtain program materials or to register, go to http://libguides.uml.edu/kerouac or contact Marks at 978-934-4581or Sara_Marks@uml.edu.
The University of Massachusetts Lowell Libraries consist of O'Leary Library Learning Commons on South Campus, Lydon Library on North Campus and The Center for Lowell History, located at the Patrick J. Mogan Cultural Center in downtown Lowell. Information regarding library services, hours and more can be found at http://libweb.uml.edu/.