In the Merrimack Valley – New Hampshire: Forum on the Future ~ Politics in America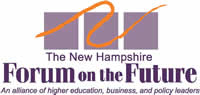 Those of you politicos who thrive on cross-boarder trips into New Hampshire during the presidential political season – might be interested in a Forum on the Future presentation scheduled for January 9, 2012 at the NH Institute of Politics at Saint Anselm College in Manchester, NH.
The discussion –  "Renewing America's Political Culture" –  will be held on the Monday morning before the first-in-the-nation primary. It  features keynote speaker David Gergen – CNN senior political analyst and director of Harvard Kennedy School – joined by New Hampshire's two U.S. Senators Jeanne Shaheen and Kelly Ayotte – making brief remarks as part of the Forum on the Future.
Registration is $25 and checks should be submitted to NHCUC at 3 Barrell Court, Suite 100, Concord, NH 03301. To register for the forum online or to find out more about the event and the series visit the site: http://www.nhfuture.org/invitation.asp.