In the Merrimack Valley: USDOT Funds Merrimack River Bridge Project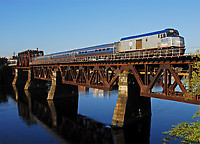 Amtrak's southbound Downeaster train 686 is seen crossing the Merrimack River in
Haverhill, MA (from railpictures.com)
The U.S. Department of Transportation received 848 applications for TIGER (Transportation Investments Generating Economic Recovery) grants. According to U.S. Transportation Secretary Ray LaHood only 46 transportation projects in 33 states and Puerto Rico were funded. DOT says grants are awarded to transportation projects that have a significant national or regional impact. The department gives priority to work expected to create jobs and stimulate economic growth.
One of these grants is coming the Massachusetts for the Merrimack River Bridge Project. According to the project list:
The Merrimack River Bridge Project will repair and reconstructhree bridges that provide an intergral connection from Boston to Haverhill and othe northern locations. The bridges carry two railroad tracks over the Merrimack River in the city of Haverhill and serve as an important corridor for passenger service – including MBTA Communter Rail – Haverhill Line andf Amtrak's "Downeaster train – and Pan Am freight service.
We in the Merrimack Valley frequently hear WCAP/980AM and other media report slow downs on this stretch of the communter rail system – delaying on-time service for the 10,000 daily communters. Kudos to Congresswoman Tsongas and her staff who played a role in getting this grant. Tsongas hosted Secretary LaHood in the Merrimack Valley last year where one of his stops included a meeting on the I93/Lowell Junction project where he pledged his support.
For more information and for the full project list check out this article on CNN.com: http://www.cnn.com/2011/12/15/us/transportation-projects/index.html?eref=mrss_igoogle_politics