Time to Get Over it Tom Reilly
Is former Democratic Attorney General Tom Reilly for real?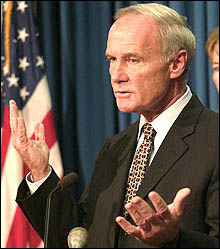 Is there really anyone who doesn't believe Reilly's endorsement of Republican Charlie Baker yesterday is nothing but a childish action motivated by his sour grapes attitude. In 2006 Tommy thought he had the Democratic nomination for governor wrapped up before the race even started… then a  virtual Massachusetts nobody named Deval Patrick came from nowhere and kicked Reilly's entrenched butt. No question the defeat  was a huge embarrassment for Reilly, especially amongst party leaders who expected more from Mr Charmless.
You see, the dull Reilly just won't admit that Patrick beat him because, well, Patrick was a better candidate, more dynamic and articulate.
Hey, we all get blind-sided at some point in our lives…but most of the time we are grown up enough to take our lumps and learn.
But not Tom Reilly…for him Patrick's re-election is the perfect opportunity for revenge.  And Charlie Baker is the perfect tool to use to get it.
By the way…am I wrong or did Baker not even find Reilly's press conference yesterday important enough to attend.
During yesterday's endorsement of Baker, Reilly said one thing I can't seem to get out of my head…when talking about Baker's turn around of Harvard Pilgrim after it was put in receivership under the former Attorney General…Reilly said "Working together (that's Reilly and Baker) we got the job done in the end"…
Ahhhh, they work well together, I wonder if this is wishful thinking by Reilly as he campaigns for a Baker Administration?