Economics on the Menu: Free Lunchtime Lectures at the ICC
The Moses Greeley Parker Lectures, Middlesex Community College, and UMass Lowell have teamed up to offer two important public lectures on economics this fall at the UMass Lowell Inn & Conference Center. Both programs are free and include a light buffet lunch. Here are the details:
Monday, Oct. 18, 12 noon
Eric S. Rosengren, President & Chief Executive Officer of the Federal Reserve Bank of Boston will discuss the current economic condition in the region and nation from the perspective of the Federal Reserve. An economist by training, he joined the Bank in 1985 as a member of the research department.
.
Monday, Nov. 8, 12 noon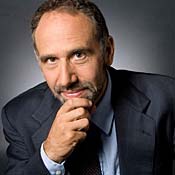 Dean Baker, co-director of the Center for Economic and Policy Research in Washington, D.C., will talk about "Recovering from the Bubble Economy." A frequent commentator in major media outlets, he writes a weekly column for the Guardian Limited in the U.K. His blog, "Beat the Press," features commentary on economic reporting. In his latest book, "Taking Economics Seriously," he thinks through what we might gain if we took the ideological blinders off of basic economic principles.
These programs begin promptly at 12 noon and run for approximately 90 minutes. Reservations are required and seating is limited to 100. To reserve space, contact paul_marion@uml.edu or call 978-934 -3107.