DOBHAR CHÚ by Tom Sigafoos
In Joseph Conrad's novella, Heart of Darkness, the unnamed narrator introduces a second speaker, Marlow, who actually tells the intricate story of Mr. Kurtz. Marlow himself claimed that "the meaning of an episode was not inside like a kernel but outside, enveloping the tale which brought it out only as a glow brings out a haze . . . ." 
It appears that Tom Sigafoos subscribes to this philosophy of story-telling in his compelling piece, Dobhar Chú. Sigafoos, a novelist and writer of "personal pieces" as well as being a sought-after Writing Coach, approaches the tale of Dobhar Chú through an engaging set of narrators, circumstances, and settings, all realized when he became an assistant to Anthony O'Malley Daly. Daly, an accomplished and prolific author in his own right, received the story from an octogenarian reader, Mary B. McEnroy.
Sigafoos embeds the story of the Glenade Lake monster in the humorous  account of his travels with the affable Daly in their efforts to promote sales of Daly's autobiography Trilogy.  Knowing the value of in-person persuasion with the booksellers, Daly hopes the book will raise funds to hire a Parkinson's nurse for North West Ireland.    
As they make their way from bookstore to bookstore with a side trip to a cemetery, Sigafoos gives us insights into the indomitable Anthony O'Malley Daly whose genuine embrace of daily life prevails over his issues with Parkinson's Disease. Together, Sigafoos and Daly prove to be delightful partners on the road. Trasna invites you to enjoy the tale and the journey. (J. Judge)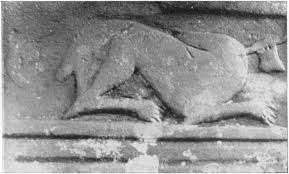 DOBHAR CHÚ by Tom Sigafoos
The story of the Dobhar Chú puts the Loch Ness Monster in the shade – Anthony O'Malley Daly, 1935-2013
On the road from Manorhamilton to Ballyshannon, Anthony plucked at my sleeve and gestured for me to stop the car. With some misgivings, I pulled into a gravelled parking lot beside a small cemetery. It had been a long afternoon, and at six o'clock I was ready to finish our bookselling journey and head for home. Anthony gestured for me to get out of the car. The March sun was setting, and I shivered in the chilly breeze as he pointed toward the graves.
I saw the sign that read CONWAL CEMETERY, and everything clicked into place. Anthony wanted me to see the grave of the woman who had been killed by the Dobhar Chú.
————-
According to his family, Anthony O'Malley Daly was one of the longest-lived survivors of Parkinson's Disease in Ireland. By 2012, he had lived with the condition for twenty-three years. Determined not to knuckle under to his diminishing physical capabilities, he'd pushed himself to perform a spectacular series of stunts – solo parachuting, bungee jumping, abseiling, water-skiing – to raise money to hire a Parkinson's nurse for North West Ireland. To attract additional funds, he decided to publish an autobiography.  He advertised on a community bulletin board for help in developing the book, and I took the job.
Anthony had no shortage of material. He'd written fishing columns for the Donegal Democrat and for the Sun newspapers for twenty-five years, covering everything from the details of coarse-fishing tournaments to the national issues of marine ecology and the effects of fish-farming on the populations of wild salmon and sea-trout. To this core of material he added colourful incidents from his early life – his military days in Cyprus and Egypt, his brushes with fame as a theatre manager in London in the 1960's, his years as a Radio Officer in the Merchant Marine. His stories of the atomic bomb tests in Australia in the 1950's were particularly gripping, describing how he and his RAF comrades were ordered to observe the blasts with only a mild caution to close their eyes to avoid the flash.
————-
To supplement his own rich mix of personal stories, Anthony invited his family and friends to contribute stories and reminiscences to his book. A peppery octogenarian named Mary B. Mc Enroy contributed a piece about a fearful creature that lived, according to legend, in Glenade Lake:
"…circa 1720 A.D. a man called McLoughlin and his wife, Grace Connolly, lived by the Northern shore of the lake. One day she went to bathe. When she did not return, her husband went to investigate. He found her dead, bleeding, half eaten by the monster, the dreaded Dobhar Chú, reputed to dwell in the lake – and which was now asleep beside its victim.
"The appalled husband killed the beast with his dagger, but as the otter (or crocodile or water dog) was dying, it whistled. This was the signal for its mate to come and avenge its death…"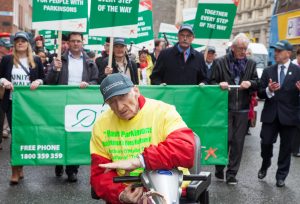 ————-
We completed and launched Trilogy, Anthony's autobiography, in December of 2012, a few weeks after his seventy-seventh birthday. In 2013 he and I began a series of auto trips though Donegal, Leitrim, and North Sligo to persuade retail outlets to stock and sell the book. I'd collect him around lunchtime, after his meal and medications. Energised by the prospect of our road trips, his voice would be clear ("How are you doing, Anthony?" "Couldn't be better!") and we'd load his Zimmer frame into the back of my car.
We began each trip by stopping in Ballyshannon for provisions – sodas, candy bars, whipped ice cream cones – and to check the fistful of lottery tickets that Anthony had accumulated during the week. He made his way painstakingly into the shop on the Zimmer frame, sometimes blocking the doorway for long minutes. I suggested that we bring his wheelchair along on our trips, but he wouldn't hear of it.
————-
I walked across the gravel parking lot and through the squeaky cattle-gate into the Conwal Cemetery. I felt relieved when Anthony chose to stay in the car.  He was steady enough on a concrete sidewalk, but his Zimmer frame became a treacherous appliance when he tried to walk on gravel or grass. I could imagine him slipping and falling against a tombstone, with disastrous consequences.
Anthony had shown me a black-and-white photograph of the Dobhar Chú victim's tombstone, with a murky outline of a dog-like creature looming over a woman's body. I trudged across the uneven contours of the cemetery grass, wondering if the tombstone would be upright or flat. The lettering and designs on the stones were eroded by centuries of Irish weather and obscured by blooms of lichen. I debated whether to pretend that I'd found it, or confess that I couldn't. I kept looking.
————-
According to Mary B. Mc Enroy, "…humans could neither outwit nor outrun the Dobhar Chú, so McLoughlin…and his brother mounted their horses and galloped as never before along a road through the middle of the parish…toward the ancient road to the seat of Queen Maeve on Knocknarea. Along this route the chase continued, entering County Sligo at Achamore.
"The animal, screaming and whistling, was catching up on them, so in a field nine miles from Sligo town, they sought refuge in a walled enclosure and placed the two horses across the doorway. As they had already been warned, the monster bored through the outer horse's belly and was about to repeat the action…"
And when the creature climbed through the eviscerated horse and began to emerge from the other side, the McLoughlin brothers sliced its head off.
————-
Anthony was sleeping when I got back to the car. He woke as we drove toward Ballyshannon, but he didn't ask if I'd seen the gravestone. His was a timeless code of honour among men – you can slag your comrades, but don't embarrass them. We sang the spirited old George M. Cohan songs as we drove through the countryside – Give My Regards to Broadway, I'm a Yankee Doodle Dandy – and despite his shaky vocal cords, he found the energy to sing along. I wondered if we were tracing the route of the McLoughlins' great chase "…toward the ancient road to the seat of Queen Maeve."
Over the years, Anthony had published three "Angler's Annuals" – 48-page chapbooks filled with photographs and articles from his fishing columns. He'd included his own fanciful fishing stories – one about a salmon with a glass eye, another about an avid fisherman who was reincarnated as a fish. An editor had told Anthony that he had a gift for writing, a great turn of phrase such as "the spiritful splash" of the salmon. But when we compiled his autobiography, the tremors of Parkinson's Disease had crippled his handwriting and his voice. Laboriously, letter by letter, Anthony dictated his thoughts by pointing to letters and numerals on an A4 page, shaking his head at the gulf between the richness of his imagination and those painfully-generated words.
Through the spring and summer and fall of 2013, we distributed his books to newsagents and petrol stations and to a remote hostel in Glencolmkille. Anthony pointed out the Wee Eany river and other streams that he'd fished and written about. Each time we headed north we looked for The Grey Mare's Tail, a misty wind-driven spray from the Blue Stack Mountains that augured good fishing.
Anthony's strength and energy declined over the year, but he insisted on going into all of the stores and shops and tourist information centres where we sought to place copies of his book. More than once after we prevailed on a reluctant manager, he'd muster a wry smile and mutter "Sympathy." He knew what he was doing.
In November of 2013, our year of bookselling ventures came to an end in a long corridor in a Bundoran nursing home. We'd visited there before, and Anthony had teased the resident women, threatening to write a tell-all book about them. But this time his energy flagged, and he accepted a ride in a wheelchair. Two weeks later, the man who loved heroic odysseys and tall tales died quietly in Sligo General Hospital.. His tombstone in the Ballyshannon Cemetery is engraved with the aspen-leaf symbol of the Parkinson's Association of Ireland.
Mary B Mc Enroy of Glenade, Co Leitrim, died in 2016. She is buried in the Conwal Cemetery.
————–

Tom Sigafoos is the author of Code Blue: A Frank Chandler Mystery. His historical crime novel Pool of Darkness was shortlisted for the 2016 Penny Dreadful Novella Prize. The Cursing Stone, his Irish historical novel, was excerpted in The Copperfield Review. His short stories, creative nonfiction and other work have appeared in The Quiet Quarter Anthology, Crannog Literary Magazine, The Cathach Literary Journal, The Leitim Observer, The Leitrim Guardian, All Weather Writing, The Irish Times, *82Review and Authors Publish Magazine. A member of the Irish Writers Centre and WORD, he also serves as PRO for the Allingham Arts Association.