Rick Harvey: Street Hockey Memories from Dracut, Mass.
About a week ago, the Boston Globe published an excellent article about street hockey culture in Massachusetts as influenced by red-hot Bruins' teams going back to the Orr-Esposito Era. Matt Porter of the Globe wondered if the surging B's of today will pump up street hockey for this generation of young fans. I shared the Globe piece on Facebook, which led to a lively comment thread. I invited people to send me accounts of their adventures with stick-and-ball. The first in is a high school baseball teammate of mine, Rick Harvey, whose recollection of his crew in Dracut, Mass., is passionate. He includes a surprising detail of the kind that makes local history sing.—PM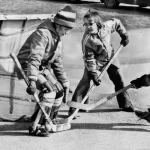 Web photo courtesy of M. Slaughter/Toronto Star (1976)
.
Street Hockey – The Martin Terrace Crew – Dracut, Mass.
By Rick Harvey
Street hockey was a very popular sport for us back in the 1970s.  Of course, it was the Bobby Orr-era then.  Most of us ate and slept Bruins hockey. I am not embarrassed to say it was the only time some of my friends and I shed tears when one of our Boston sports teams lost in a championship. Goalie Ken Dryden of the Montreal Canadiens stole the show, and as they said in those days "stood on his head."
We had a special name for street hockey in our neighborhood. We called it "sheets of flame." We would play for hours on end in the daytime and then after supper play under the streetlights until it was time to go in. Myself, Dave Paquin, Billy Simmons, Freddie Stec, Dave Bates, the Gariepy brothers Kenny and Brian, Dickie Eberhardt and finally our young star George Demetroulakos.
"Georgie" was quite younger than we were, but he loved playing with us, and he loved playing goalie. Honestly, his mom at times would get mad at us for the pounding he took, but he always came back for more. I say young star because Georgie went onto Northeastern University and became a starting goaltender for them.  He backboned the team in net to win the 1980 Beanpot Tournament and he won the Eberly Award given to the goalie with tournament's best save percentage. We always joked and took a bit of credit for the skills that Georgie had in net, skills he really learned as a young street hockey goalie.
We built a "regulation goal" out of wood and heavy twine. Dave and I practiced countless hours in his driveway, each taking turns playing goalie. We even practiced in his cellar when the weather was poor. We made homemade goalie pads and a stick pad and used a baseball glove for the goalie glove. We did use those "Mylec" hockey sticks with the plastic blades. I remember heating them over the electric stove to bend curves in them to help with the slap shots. We also used older wooden hockey sticks and taped the heck out of them with electrical tape so they would work better on the tar. We used the orange Mylec balls and pucks. But our favorite thing to use was a tennis ball.
Of course, playing games was the most fun. We would play amongst ourselves or invite other neighborhood teams to come over or we would even travel. One great place we would meet to play other teams was an outdoor basketball court behind the Dracut Middle School off Lakeview Ave. One side of the court was the brick wall of the gym. The other three were chain-link fencing with the green slats between the links. It was like having our own outdoor hockey arena. We played countless games against the Litchfield Street. team.  Ronnie and Donnie Chandler, Wally Biedron, Wally Hudzik, and Johnny Tellier are a few names I recall. I remember those games being very competitive.
We rarely stayed indoors. We played all the sports in "pick-up" style, either in our neighborhood or down at the high school complex. I do feel sorry for the kids these days who probably do not even know what a pick-up game is. My friend Dave and I still see each other often. We still reminisce about our old neighborhood. The memories are so vivid, it seemed like they just happened yesterday. As they say, those were the good old days.
For more on that Northeastern University Beanpot win, read US College Hockey History here.