'Love Me Do': The Beatles in Northampton, 1963
'Love Me Do'
by John Wooding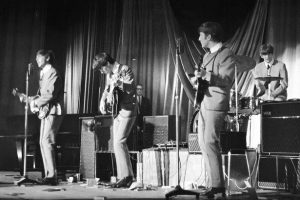 Web photo courtesy of Northantslive.news
I had just made my first decade on the planet. A ten-year-old kid in a sad Midlands town. Northampton, like much of England in those days, was all monochrome, fading pubs, and forlorn shoe factories. Pretty soon the factories would be gone, and what little spirit the place had left would evaporate in the fetid air of the god-awful housing estates and shopping malls that would soon rip out the heart of the place. But in 1963 a little ray of sunshine cast a glimmer of light – enough to charge the hopes of a generation even though it couldn't save the place itself.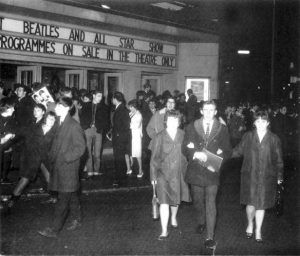 Web photo courtesy of richoliff.wordpress.com
At end of March that year The Beatles came to my hometown. A stop on a tour that took them all over the country. The venue?  A cinema downtown. A place I would take my first girlfriend a few years later, with all the awkward and loaded love a darkened place can offer. The faded glory of the auditorium echoed with screams and adulation (although the gig was not sold out, and many came to see Tommy Roe and Chris Montez, not the four mop-tops). But this was the beginning. The band was on the verge of global fame. The lads from Liverpool played just a few songs.  The set list (and, yes, you can find this on the Web) included: "I Saw Her Standing There," "Love Me Do, Misery," "Do You Want to Know a Secret?," "Please Please Me," and "A Taste of Honey." Kind of astounding that all but one of these songs were original Lennon/McCartney compositions.  The Beatles came back in November that same year. My brother took me to the concert, but I remember little of it. That set list included "All My Loving" and "She Loves You" (both recorded that summer). Would that I had better recall, or an autographed copy of the program. That would have been some set of mementos.
But I have other things that linger. Gifts, I suppose, from the boys. Hearing working-class accents on the BBC that were like mine, holding out the hope that I might be accepted one day in a still class-bound England. The sheer energy they gave us. The joy of the music – worth remembering that over the three years since that show they would record seven albums full of spectacular music:  Please Please Me, With the Beatles, A Hard Day's Night, Beatles for Sale, Help, Rubber Soul, Revolver.  And, in 1967, the iconic Sgt. Pepper. It was a hell of a soundtrack for my teenage years, entwined with the music of the Kinks, the Who and the Rolling Stones. Like many, it let me sing through adolescence.
The Beatles didn't change everything. They were part cause, part symptom of a period that, for a short time, turned England upside down. But they changed enough to give a kid from a fading town inspiration, and a glimmer of a different world. Without John, Paul, George, and Ringo I might never have seen a future that I might own, might never have gone to university, might never have broken free from the shackles of class and place. Because sometimes, just sometimes, music sets you free.