Learn About Jack Kerouac Online from Alaska
Learn About Kerouac on Zoom from Anchorage, Alaska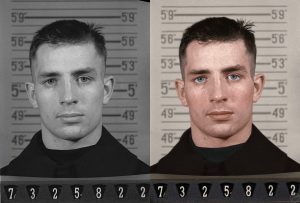 Jack Kerouac, U.S. Navy, 1943 (colorized by metacolor on reddit)
Alaskans and people around the country who are over the age of fifty will have an opportunity to learn about author Jack Kerouac in four seventy-five-minute Zoom sessions beginning February 10. The class, entitled "Off the Road," is designed for Alaskan senior citizens who know little or nothing about Kerouac's work beyond On the Road. Emphasis will be placed on Kerouac's five Lowell-based novels, as well as writings published in Atop an Underwood and The Unknown Kerouac. The third session will explore Kerouac's time in the Bay Area and the Pacific Northwest from 1955 through 1956 using John Suiter's Poets on the Peaks and writings by Gary Snyder and Kerouac.
 Mike McCormick, a longtime Alaska resident who grew up in Haverhill, Mass., will lead the sessions. "Off the Road" is sponsored by Ole, a non-profit organization dedicated to lifelong learning affiliated with the University of Alaska/Anchorage.
Sign up for an introductory membership to Ole for $50 (regular price is $200) to take classes. Typically, classes are on UAA campus. The course is Zooming because of pandemic.