Our friend and occasional contributor to this blog Tom Sexton in Alaska sent us a poem that he brought back from a recent walk near his home in Anchorage. Tom's latest book is a collection of his best poems about Lowell, Cummiskey Alley, available at loompress.com, on amazon, and at Lala Books in Lowell.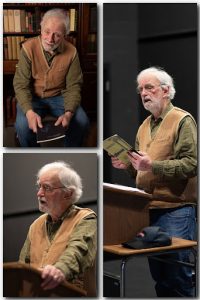 Photos by Kevin Harkins for Merrimack Valley Magazine.
Walking in New Snow
by Tom Sexton
It gilds the paper birches
makes them bow.
The darker poplars take
it in stride believing
the birches lack gravitas.
I didn't intend to write
this little poem,
but that's what walking
in new snow
can do to a poet,
this old poet anyway.
In a minute or two,
the small woods I'm
in will end at a parking lot.
I'll turn around then
retrace my steps, perhaps
revise a line, try it on my tongue
give thanks I have nothing to do
and nothing I'd rather be doing.