LaLa Books in Lowell: Live Literature
That's a lot of "l's" in the headline. Lowell has a new bookstore, "lala books," named for owners Laura and Greg LaMarre Anderson. They worked with local real estate consultants at The Edge Group to get established at 189 Market Street close to the city parking garage. The bright interior, large street-facing windows, and high ceilings make the place somewhere you'll want to browse and linger.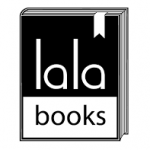 "After a year of living through virtual gatherings, we are super excited to create a space where folks can browse through books, sit and chat, and spend time with the kids. lala books is a full-service bookstore with a strong children's collection," explained Laura.
Chath pierSath and I were honored to open lala's author series last Friday. More than 30 people gathered in the spacious store to listen to us read from our recent books: ON EARTH BENEATH SKY by Chath and mine, LOCKDOWN LETTERS & OTHER POEMS. Both are on sale in the store along with lots of other books in various categories.
Chath got a round of applause when I mentioned that his book made the prestigious "Must-Read" category in the Massachusetts Books Awards of 2020, which are selected by the Massachusetts Center for the Book, an affiliate of the Library of Congress.  The finalists in Poetry like Chath will learn the name of the winner in Poetry this fall. Good luck, Chath.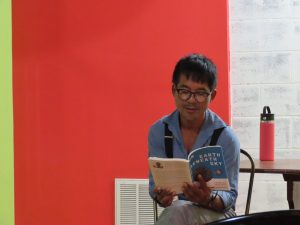 Chath pierSath reading at lala books (photo by Janet Egan/Facebook)
It was heartening to see so many people. It was great to see familiar faces like Doug Sparks, Janet Egan, Dave Robinson, Sue Andrews and Becky Warren, Jim Wilde, Theresa Park, Richard Marion, Dave Daniel, Jay Atkinson, Jack Neary, Jen Myers, James Ostis, and Helena Minton. I hadn't seen some of these folks since 2019 due to the virus.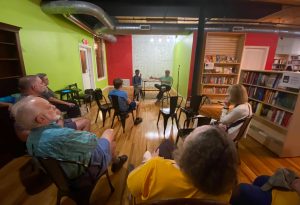 Chath and I doing our thing at lala books (photo by Jen Myers/Facebook)