Michael McClure's Last Poems: A Lowell Connection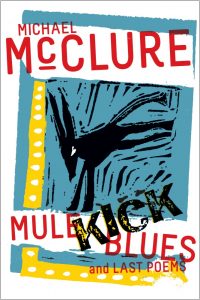 For my fellow Lowell, Mass., nerds, please note the fabulous cover on this new collection of poems by the late Michael McClure. The editor is Garrett Caples of the City Lights Books team in San Francisco, who has roots in Lowell. Here's what he writes about the cover: "When [Michael] first told me the title, it brought to mind a chain of gas stations from my New England childhood, Haffner's, whose signs depicted a bucking mule, with two sets of red neon legs that blinked alternately over the slogan It Kicks!" The final design was made by Greater Lowell artist Jeff Mellin.
McClure visited Lowell a handful of times including in 1988 for the dedication of the Jack Kerouac Commemorative sculptural tribute in Kerouac Park at Bridge and French streets. The night before the dedication ceremony poets who were friends of Kerouac's read for an audience of more than one thousand in the Smith Baker Center. McClure performed with Ray Manzarek, keyboardist of The Doors with whom he toured for a few years with a poetry and music show.
Read Kevin Canfield's review of this book in the San Francisco Chronicle.
"We should never assume that a poet's words are autobiographical, but it seems clear that Michael McClure's irreverent verse about mortality came from a deeply personal place.

"'TO GROW OLD IS A JOY PRECEDING THE BIG ONE,' McClure, the famed Bay Area writer who was 87 when he died in May, writes in this evocative collection of 'last poems.' 'Death is a dark chocolate cake,/ sweet, and filled with deep blue tortures.'

Intelligent, affable and flecked with unconventional typography — as in previous books, McClure capitalizes numerous words and arranges others to run vertically down the page — 'Mule Kick Blues' is an estimable coda to a storied career."