This post by Paul Marion first ran on August 14, 2010, and is repeated here for this year's Music Week on the blog:
All Hail Lyle Lovett
By Paul Marion
(Aug 14, 2010)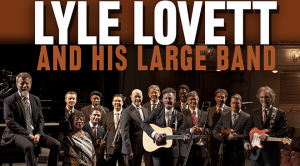 At one point in his performance at Boarding House Park as part of The Lowell Summer Music Series, Lyle Lovett had fifteen musicians and singers on stage. I never once thought of Lawrence Welk. I had never seen/heard Lyle Lovett in concert. What was I missing? What I was missing!
Where to begin? Wow. Double-wow. The twin dynamos of BHP, Peter Aucella and John Marciano, keep out-doing themselves. For shows in recent years, Lyle Lovett and His Large Band ranks with the appearance of Joan Baez under the French Street pergola for sheer musicianship and performance power. For energy and lift and proliferation of fun, the edge goes to Lyle.
The Sun this week reported that his troupe has played in Boston and on Cape Cod, but I can't believe those shows were better than the one last night. The recording gods should have been at their machines because a live album/cd/download of the show last night in Lowell would be a mega-hit.
The band played for more than two hours after a catchy opening set by song-stylist Kat Edmonson, whose voice wraps around standards like "Summertime" as if culturally engineered for them. I can't remember the names of the players in the "Large Band" or the four fabulous older guys singing on the side, but each of them deserves to have his name etched into the steel of the performance pavilion for history's sake.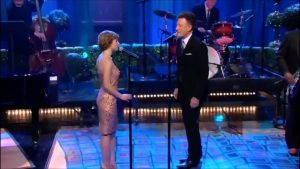 Kat and Lyle (not in Lowell), courtesy of YouTube
People will talk about this concert for years, maybe decades. The temperature was perfect. A searchlight swept the sky for added glamour. Am I too enthusiastic? Sitting there with my wife and some close friends, I was dual-tracking in my head, savoring every well-played note and beautifully sung word while trying to put what was going on in experiential context. Like the labels on science displays in the Exploratorium in San Francisco that ask "What's going on here?"—I was thinking, This is the essence of art-induced joy. This is why people say they "love" music, and it is not too strong a word.
How many people attended the show? More than 2,000 probably. And there were moments when the artists and audience bonded in pleasure that explain why people have been beating on drums and plucking strings and trying to make harmonious sounds together for six million years or so.
The show was a tour of American music, from rock and roll to jazz, from country and gospel to the pop songbook, from alt-country to blues and swing and the other variations. We witnessed a unit at its peak. When the lights came back on at the end of the show the grounds buzzed and bubbled with chatter as people folded up blankets and chairs and moved toward the exits. To the organizers and sponsors: "Well done, well done." To the band-leader and the band: "Forget Cape Cod. Come back to Lowell next summer."