Welcome to Music Week on richardhowe.com. We occasionally bundle blog posts of a common theme together and today starts such an effort. For the next two weeks our contributors will share stories of music, in the broadest sense of that word. 
Pandemic Music
By David Perry
Pandemic, insurrection, loss, isolation. How have you gotten through it all?
Surrender.  Wear your mask, sanitize your hands, keep your distance. And listen to where you're taken along the way. Understand that you're changed, and will not be the same. You may want to never see people again.
A few things have kept me sane over the past year. Here are six of them.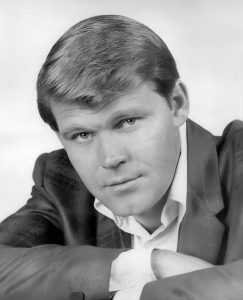 Glen Campbell, 1967 (web photo courtesy of Wikipedia)
"Galveston," and "Wichita Lineman" Glen Campbell.
Bookend hits, from 1968 and 1969, about longing, executed by artists destined to collaborate.
Eternally-gifted, hip and young, Jimmy Webb was on the beginning edge of a run of astounding chart success based on smart lyrics and melodies that grabbed listeners and refused to let go.
This was not the first Webb-Campbell dance – "By the Time I Get to Phoenix" was a smash in 1967. But "Wichita Lineman" was the second in their trio of city-titled songs.
I remember sitting in the back of the blue station wagon, my Navy pilot dad relenting to punch up the Top 40 station. To dad, the playlist mostly set off images of long hair, hippies frolicking in the Haight and bellbottoms.
But the Campbell fellow, he was all right.  Shorter hair, string-laden songs, a homey TV show.
It all made Campbell unhip to me. I tuned out.
I didn't yet know he was a guitar master and member of The Wrecking Crew, owed much by a slew of others on whose hits he played. He partied as hard as anyone in San Francisco off camera.
Years later, I just listened, and I heard the most beautiful couplet in all of pop.
And I need you more than want you
And I want you for all time.
"Galveston" is perfection, the duo's peak.
A match of lyric to the times (released February 1969) , of writer to lyric, of singer to writer. As Vietnam raged on, Webb's song (first recorded in 1968 by Hawaiian warhorse Don Ho, with a slower tempo and more blatantly anti-war lyric that had the soldier putting down his gun to go home) captured the fear and longing of a soldier's inner dialogue. Campbell swapped out the lyrics (instead of putting down the gun, he is cleaning it) but left in a line that was even more to the point. "I am so afraid of dying."
There are times during my covid confinement that I stop to play the videos and I always wonder if the soldier in "Galveston" made it home.
Watch Campbell at his best. He seems to know at 2:08 and 2:27 in the "Lineman" video and in "Galveston," you're seeing an artist who is absolutely living in a song.  Also, note the "whee!" at the end of both.
https://www.youtube.com/watch?v=-HFCuBLAjXo
https://www.youtube.com/watch?v=ZTbTHlTmDX8
The Red Hand Files, Nick Cave.
Essential reading, a weekly email from the Nick Cave and the Bad Seeds front man. It's Cave answering fans' queries about his work and life and there are moments of poignancy deep enough to make you weep. Chaos, spirituality, music, art, drugs, censorship, politics and riveting stuff about the accidental death of his 15-year-old son. Beautifully written and incredibly revealing. Issue #137 has just arrived as I write this, and one of the questions is about creating a new album during a pandemic.
https://www.theredhandfiles.com/
Oliver.
My  grandson, an 18-month-old wonder and source of endless, boundless joy in these weird times. Sundays with Ollie makes the rest of the week worth it.
"Californication"
People used to tell me that I really needed to see the series – lead character Hank Moody is a writer and there's plenty of good music – but we never had Showtime. Now, our jumble of odd little subscriptions that I still don't understand, we somehow have access to it. In April, I blew through its seven seasons (2007-2014) in a few nights, aided by insomnia, which was probably aided by the pandemic.
There's loads of good music, from what emerges as the theme song, the Stones' "You Can't Always Get What You Want." All of Hank's books are named after Slayer albums. RZA pretty much steals the fifth season.
David Duchovny's Moody is a hedonist who just can't help himself, or won't. And lots of what happens perhaps wouldn't play well these days, but Moody was never meant to be a good guy. (If you want a lovable character, it's daughter Becca.) Californication is loaded with Hollywood weirdness, of cliched characters and good acting. Weird, funny, poignant.
Though it went seven seasons, Californication's proper finale came as season four ebbed. As the Stones blare again, full circle, Hank literally drives off into the sunset. https://vimeo.com/34750168
Radio Garden
Oh, my. So brilliant an app. Takes you to radio anywhere in the world. I wake up LBC UK to hear what the Brits are discussing five hours before we get there. I cook dinner to KEXP in Seattle.
http://radio.garden/listen/lbc-uk/szMy8lmc
 "Rita"
Danish TV series (with subtitles), on Netflix. Mille Dinesen as Rita Madsen, a teacher who sees her calling as "saving children from their parents." A single mom who smokes incessantly and whose tortured past comes into focus over five seasons, she is the person you want on your side when things get tough. Great characters. One of my favorite series. We were depressed for a while when we were done.