Tom Sexton has two poetry books due in the next several months, Snowy Egret Rising (Chester Creek Press) and Cummiskey Alley: New and Selected Lowell Poems (Loom Press). He's in Alaska this season, but he and his wife, Sharyn, also keep a home in Eastport, Maine, where they often stay for part of the year. Born in Lowell 80 years ago, Tom taught for many years at the University of Alaska and served as Poet Laureate of Alaska for five years. He is one of Lowell High School's Distinguished Alumni and a graduate of Northern Essex Community College and Salem State University in Massachusetts.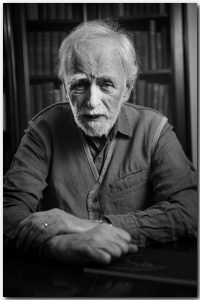 Tom Sexton (photo by Kevin Harkins)
.
Looking Toward Denali on Our Anniversary
by Tom Sexton
The tallest peak in the Alaska Range, Denali,
glows like a diamond in the early morning light,
an image as easy as it is imperfect, I think,
then I smile. It was more than fifty years ago
when I first saw it with my wife by my side.
Did it really levitate while we watched in awe?
The wedding rings on our fingers too bright
not to be noticed, now not given a glance
by friends or strangers. Why would anyone
want to stand on top of Denali, I wondered?
A not-yet friend who was among the first,
as he said, to conquer her in winter laughed
when I asked, then he looked at me with pity.
A hundred miles away, it floats above thin cloud.