Mike McCormick: Patriots Day in 1970 & a Boston Marathoner
Patriots Day, 1970     
By Mike McCormick
The sky threatened rain when Jim Laprel, Val Danos, and I headed to Boston in my 1966 red Datsun on Patriot's Day, 1970. Our Haverhill High School track coach John Ottaviani had excused us from track practice so that we could run in a road race in Roxbury. Three other teammates drove to the race in a different vehicle.
I was not at all excited about running a five-kilometer race that day.  Since it was Patriots Day, I knew the Red Sox would be facing the defending American league champion Baltimore Orioles at Fenway Park at eleven that morning. The early start time enabled baseball fans to walk from the ballpark to the Boston Marathon race route in time to cheer runners as they approached the finish line. I decided that I'd much rather experience Boston Patriot's Day baseball and marathon traditions than run myself.
I suggested we bag the race and catch the game and the Marathon finish.  Jim and Val decided to go along with the idea.
Cold rain pelted down by the time we paid our $1.00 each for center field bleacher tickets.  Fifty years after the fact, all I remember about the game was being cold, miserable and uncomfortable.  The records show that Ray Culp, a solid pitcher for the Phillies, Cubs and Red Sox, faced the Orioles pitching great, future Hall of Fame Jim Palmer. Palmer, uncharacteristically, (perhaps the rain bothered him) threw two wild pitches and allowed seven walks. Even with all the walks, the Sox only managed to score two runs on a two-out double by Massachusetts-born right fielder Tony Conigliaro. The Orioles pushed across three runs on a two-run homer by their massive first baseman Boog Powell and a double by future Hall of Famer Frank Robinson.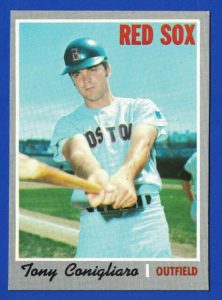 The game was called because of rain after six innings with the Orioles leading 3-2. Both pitchers had hurled complete games in the hour-thirty-nine-minute contest.
We hustled out and headed towards Commonwealth Avenue to watch the runners pass. Ron Hill dashed by on his way to victory minutes before we arrived. Luckily, we did get to applaud John J. Kelly, the 1957 winner, on his way to a 63rd place in that his 16th Boston Marathon.  We marveled that anyone could run that many marathons.
The rain fell steadily.  My clothes soaked through.  I started shivering.  After watching a few dozen runners pass, I suggested we retreat to the warmth of the car.
I figured Coach Ottaviani would ask how the race went when we got to practice the next day. I thought he might be pleased to learn we watched the Boston Marathon.
I was wrong.
Our teammates who did make it to Roxbury all finished in the top ten in the race's high school division. Haverhill High missed winning the trophy for the best scholastic team by a few points. If any of the three of us had even had a mediocre race, Haverhill would have been the high school team winner.
Coach was livid. At the end of practice we paid the price for our indiscretion with miles of extra running.
Jim, Val, and I continued to compete on the track team the rest of that year. We never again took an excursion together. And we never discussed our Boston Patriot's Day adventure.
Not long after I signed up for Facebook, I sent Jim a friend request. When he accepted my overture, I hadn't been in touch with him for over forty years. He still resided in Haverhill. And he was still running. And, remarkably, to my delight, he had recently completed a Boston Marathon.
When I congratulated him on his success he told me something I never suspected.
In 1970, he'd been inspired when he watched the marathoners pass. That very day he resolved that he would compete in a Boston Marathon. Two years later, after we'd graduated from Haverhill High, he ran his first race as an unofficial entrant.
As of this writing, Jim has completed eighty-six marathons, including forty-five on Patriot's Day and forty-one New York Marathons.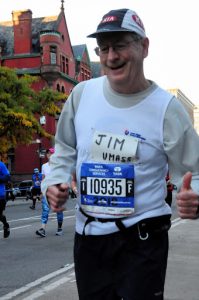 Jim Laprel (web photo courtesy of jimlaprel.com)
In addition to the marathons, the sixty-six-year-old has toed the starting line at eight hundred shorter races including, on forty-two occasions, the grueling Mount Washington Road Race up New England's tallest mountain.
Few runners have competed in forty-five Boston Marathons. Fewer, if any, runners have participated in a total of eighty-six Boston and New York Marathons. And I would bet that nobody on earth has not only eighty-six Boston and New York Marathons, but also forty-two Mount Washington Road races.
Jim Laprel's running longevity is in its own way every bit as impressive as Tom Brady's at quarterback. Even though he has seldom-if ever-been in the headlines, Jim's career has established him as one of New England's most noteworthy athletes.
Who would have thought that the decision to skip a road race would be connected to planting the seeds for a lifetime of running achievement?
Merrimack Valley sports fans are missing professional sports and traditional events such as the Red Sox- Boston Marathon Patriots Day twin sports feast. Many people all over the world have been deprived of our private athletic passions due to cancelled local events, and shuttered health clubs, golf courses, and other recreational facilities. It's easy to become discouraged.
Jim continues to run five days a week.  He hopes to compete in his 42nd New York Marathon in November. His running (as well as many of his other endeavors that I learn about on his website and Facebook) gives him, and the many people who know him, a reason to believe.