Isolation Scenes II by Doug Sparks
Isolation Scenes II
By Doug Sparks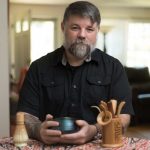 ON AN EARLY Saturday morning in April, I wake up to snowfall. The sight saddens me, because I know how many people are looking to the earth for some transcendent message that will help make sense of our current situation. And it saddens me because I know how many people are undergoing mental health problems of types moderate and severe, and how this unexpected snowfall must feel to them like the poking of a wound. And I'm sad to think of how this period will give researchers a wealth of climate data, which the powerful and misguided will then seek to discredit. It is not a beautiful snow. It is grey and severe.
*
Our toddler only naps in the car, so at the same time every day I drive the backroads into Tyngsboro, Dunstable, Pepperell, and beyond, looking for deserted areas where I can park and let her sleep while I catch up on work or reading.
Virtually free not counting the gas, it's the sort of experience that makes perfect sense: exploring surrounding towns at random and by the sideroads. But where would the time come from under normal circumstances to break the confines of habit and idly look around?
Yes. To deliberately take the wrong turns.
Sometimes I stop alongside small ponds north and west of my town. These ponds as if by force of nature seem to attract solitary retirees with fishing poles. One pond. One fisherman. They sit, universally, in a posture of contentment. I stay in my car and kill the engine, hoping not to trample on their silent pleasures, but if by chance I catch their eyes, it's almost the same. A smile and a wave and a nod.
*
Three blessings:
Light morning traffic, I-495.
Shakespeare on the Globe Theater's YouTube channel.
Lunchtime porch barbecue.