Lowell Organizing Itself as a 'City of Learning': Hear More About It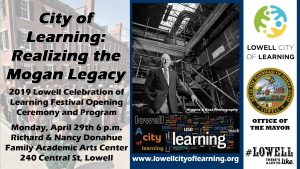 From the office of Mayor William Samaras:
City of Learning: Realizing the Mogan Legacy
The Lowell community is organizing itself as a "City of Learning" in the spirit of the global Learning Cities network of the United Nation's UNESCO program. Places like Cork, Ireland; Nairobi, Kenya; Sao Paulo, Brazil; Volos, Greece; Turin, Italy; Beijing, China; and Mexico City, Mexico, are network partners who share best practices and learn from each other as municipalities. All the cities are committed to inclusive, equitable lifelong learning with opportunities for all of their residents in settings that can sustain a high quality of life.
We are pleased to announce the 2019 Lowell Celebration of Learning will begin with an Opening Ceremony and program. City of Learning: Realizing the Patrick J. Mogan Legacy. Dr. Mogan, known as the father of Lowell National Historical Park was an early visionary of Lowell as a Learning City. This event will take place at the The Richard & Nancy Donahue Family Academic Arts Center on the campus of Middlesex Community College on Monday, April 29th.
The evening's main program will feature a conversation about the life and legacy of Dr. Patrick Mogan. Moderated by UMass Lowell emeritus Professor John Wooding, the panel will include Lowell figures who knew and worked closely with Dr. Mogan including Paul Marion, Marie Sweeney, and Mayor William Samaras. Other topics for the evening will include how Mogan's legacy is felt through the educational and learning environment in Lowell today.
Monday, April 29, 6 pm to 8 pm at the Donahue Family Academic Arts Center, Middlesex Community College, 240 Central Street, downtown Lowell.
This event is free and open to the public. Please visit www.lowellcityoflearning.org for more information about the initiative and the week's events.