Meg Smith: Writer in Full Stride
Meg Smith: Writer in Full Stride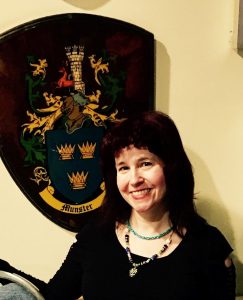 Meg Smith is in full stride as a writer. She says 2018 has been "a full and blessed" year. She published her book This Scarlet Dancing (Emu Press) and placed poems and short fiction in several literary magazines and journals, including Café Review, The Literary Hatchet, Strange Horizons, and Star*Line, Journal of the Science Fiction and Fantasy Poetry Association. In This Scarlet Dancing, readers will find "poems of love, loss, the natural and supernatural, and the darkest and brightest spaces of imagination . . . snapshots of a life deeply felt, filled with experiences that are worth remembering."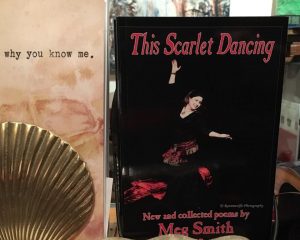 Meg is a poet, journalist, dancer, and events producer living in Lowell, Mass. An award-winning reporter with Gatehouse Media for 16 years, she has also written for the Sentinel & Enterprise in Fitchburg and Sun newspaper of Lowell. Meg is familiar to many people in the city as one of the long-time organizers of the annual Kerouac literary festival, Lowell Celebrates Kerouac! Meg and Lawrence Carradini, her late husband, made an enormous effort to keep the festival growing and going forward. Since 1988, there hasn't been one year without the event. In tribute to Larry, she donated his poetry manuscripts and correspondence to the UMass Lowell Center for Lowell History at the Mogan Cultural Center in downtown Lowell. The Center mounted an exhibition of the documents this past year.
A trip to Ireland to visit family members was a high point of her year. "I went to some amazing places in Ireland's literary history, including Trinity College, the house of Bram Stoker, author of Dracula, and the National Library of Ireland, which had breath-taking exhibit of the life and work of William Butler Yeats."
Looking to 2019, a new book, Shadow Island, is due in the Fall, and poems are forthcoming in PoetryBay, Hello Horror, and others.
Meg maintains a busy public schedule, with Middle East dance performances and poetry readings this past year at the Dire Literary Reading Series at the Middle East Restaurant, Cambridge; First And Last Word at Arts at The Armory, Somerville; Lizard Lounge Poetry Jam , with live music by the Jeff Robinson Trio, in Cambridge; Lovecrafts Arts & Sciences Council in Providence, Rhode Island; and local spots such as the The Hearing Room, Brew'd Awakening's Untitled Open Mic, and Cappy's Copper Kettle for the Kerouac fest in Lowell.
To keep up with Meg's activities, you can follow her on her website, www.megsmithwriter.net, as well as on Facebook and Twitter.