Literary Pilgrimage Book: Twain, Baldwin, & Kerouac
Looking through the Arts & Leisure section of the New York Times today, I saw a full page ad for a book called "Footsteps: Literary Pilgrimages Around the World," which is drawn from past travel columns in the Times. The Times is considered by many people as the paper of record in the USA. The sub-headline reads: An anthology of literary pilgrimages exploring the geographic muses of history's greatest writers. Okay. And under the sub-headline are four portraits; Mark Twain, James Baldwin, Flannery O'Connor, and Jack Kerouac. Okay. Wait, of all the literary giants featured in this book the Times picks Kerouac as one of four faces to feature. Let that be noticed in Kerouac's hometown.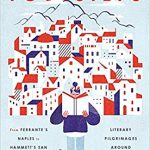 The selection about Kerouac and place describes a climb up Matterhorn Peak in northern California, an adventure he works in to his his popular novel "The Dharma Bums." But another journalist might have taken readers on a pilgrimage of Kerouac sites in Lowell, much as Roger Brunelle and Sean Thibodeau did two weeks ago in the Lowell Walks series—about 90 people joined the walk.
All this said, the full page ad becomes something like Exhibit 529 or whatever in the case to be made for the Lowell community to keep upping its game in the recognition of Jack Kerouac, whether that means making improvements to Kerouac Park on Bridge Street (a topic now being discussed by stakeholders) or beefing up the Kerouac literary festival, which leaders at City Hall are doing this fall. A marathon reading of Kerouac's "On the Road" will be hosted by Pollard Memorial Library in October. New Bedford, Mass., has done well with its annual public reading of "Moby Dick."