Lowell Week in Review: February 21, 2016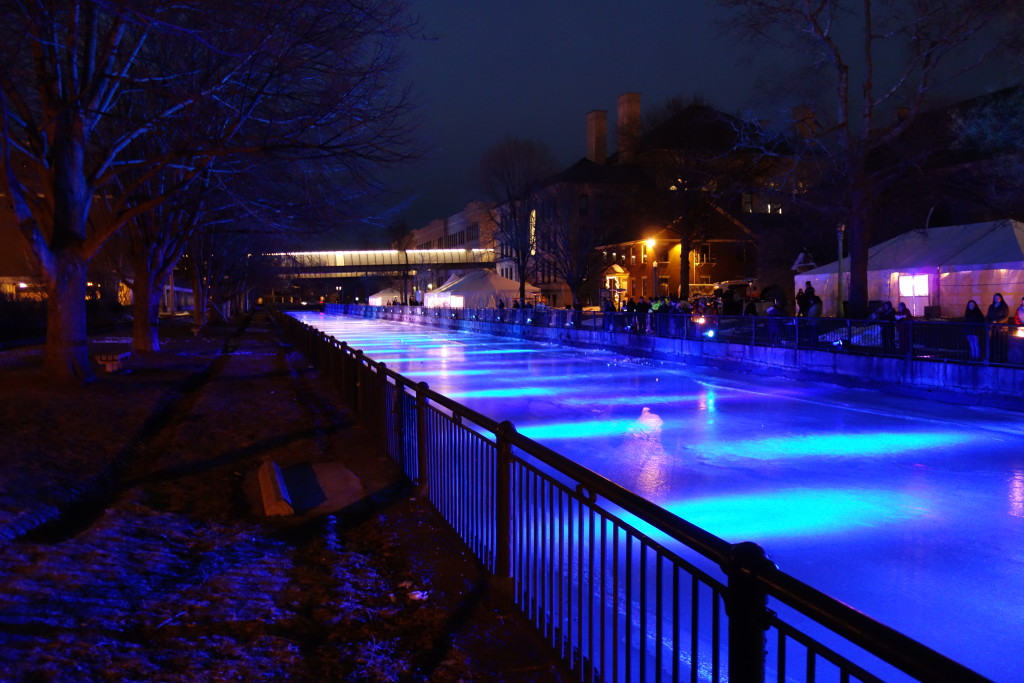 Winterfest 2016
Congratulations to the organizers of Winterfest 2016 for a successful reset of an existing event that was ready for some new ideas. The highlight for me was the illuminated Merrimack Canal which glowed red, white, and blue on Friday night. After the opening festivities and the flipping of the light switch, it seemed like most of the action moved inside the heated beer tents on Lucy Larcom Park.
The family-friendliness of the festival really emerged on Saturday with the soup competition at the Masonic Center; the chocolate festival inside St. Anne's Church; the giant slide, the carousel, and the inflatable fun house on Arcand Drive; and the "Frozen" themed activities and movie showing at Lowell National Historic Park Visitor Center.
I assume there will be plenty of suggestions on how to make things better. They should be welcomed by the organizers. But we should all acknowledge all of the effort that went into making Winterfest 2016 such a success.
It was uplifting to see so many people walking around downtown on Saturday. Our challenge is to find ways to do that every Saturday. More lights—on canals, on buildings, on smokestacks—will be a great draw. The visual artistry of seeing familiar things in a different way (i.e., lit up at night) will draw first-time visitors and those who frequent downtown. While Saturday's multitude of events all fell under the Winterfest umbrella, every one of them could have been held independently. We should encourage and reward individual initiative and informal collaboration in organizing these smaller, independent events, throughout the year and not just on the few weekends on which major festivals occur. To me, that's the recipe for improving downtown – just add people, lots of them.
Traffic in Downtown
Even with Arcand Drive closed for Winterfest, the traffic in downtown Lowell wasn't too bad on Friday night and Saturday. The same can't be said for this past Wednesday when a New Citizens Oath Taking Event at the Lowell Memorial Auditorium and the inevitable construction delays on Bridge Street and VFW Highway caused gridlock in downtown. Because I had decided to grab lunch downtown that day, I was in the midst of the traffic jam. Only I was on foot and not in a car. Walking at a normal pace and passing cars stuck in traffic really validates the need to find alternate means of transportation. One thing struck me about all of these idling vehicles I passed: almost every one of them contained a single occupant.
Repainting traffic markings, changing light cycles, even widening roads, won't improve this one bit. We have to figure out a way to change people's transportation habits and for that we should all embrace the term multimodal.
In urban planning, multi-modal (with a hyphen) has come to mean a flexible approach to an individual person's transportation needs that utilizes walking, biking, public transit, and driving, with public transit being the most important element. With the city council at Tuesday's meeting concurring in Manager Murphy's recommendation to abandon (for now) the idea of a mass transit trolley system, the focus turns squarely to the Lowell Regional Transit Authority and how well it serves the city of Lowell. Last summer I rode the bus to work several times. I enjoyed it, but old habits are hard to break, so I mostly drive to work. But if we continue with weather like we had yesterday (sunny with temps in the 50s), I'll start grabbing the Westford Street bus to the Gallagher Terminal and then walk to work from there. That also means I'll have a chance to try out and report on the LRTA's new GPS app.
Ideal Gas Law
Little did I know when I watched Bill Belichick explain the Ideal Gas Law in the midst of Deflategate last winter, that it would have such a practical application in my life. Belichick's point was that when the environment in which air is under pressure changes temperature, the air pressure will drop when the temperature drops. The reason this became relevant recently is that when I started my car in the -13 degree temperature (to be clear for posterity, that is minus thirteen, or thirteen degrees below zero) last Sunday morning, the "low tire pressure" light appeared on my instrument panel. Rather than panic about a flat tire, I knew, thanks to Coach Belichick, that the problem was attributable to the air temperature. Unfortunately, the engineers who constructed modern tire pressure sensors weren't Patriot fans, so the alarm didn't automatically reset when the temperature rose. A quick shot of air in each tire was needed to extinguish the warning light. Hopefully, the Ideal Gas Law won't affect our tires anymore this year.
Hypertext Bookstore Café
Congratulations to Hypertext Bookstore Café which opened yesterday in the Cherry and Webb building at the corner of Merrimack and John Streets. They had a good selection of coffee, some great looking donuts, and plenty of café tables and chairs. And books. Most of the books were in metal shelves that had casters on the bottom, making them highly mobile. Presumably this will allow the proprietors of the café to reconfigure the space for readings and other entertainments.
Abolitionism in Lowell
The screening of "Frozen' and related kids' activities were not the only noteworthy things going on at Lowell National Park's visitor center yesterday. Professor Bob Forrant of UMass Lowell's history department gave a talk on pre-Civil War abolitionist activity in Lowell. That was followed by the showing of Traces of the Trade, the story of a New England family's efforts to reconcile its great wealth with the source of that wealth – the slave trade. After the film, Kristin Gallas, a public history consultant to the Traces Center on Histories and Legacies of Slavery, moderated an audience discussion about the film. (There were plenty of comments from the audience of nearly 50 people).
Bob Forrant began researching abolitionism in Lowell to prepare for the Lowell Walk on that topic that he led last summer. His research continues and, if we are lucky, he may even write a book on the topic. What makes this topic such as fascinating one is that Lowell's entire reason for existence involved cotton that was produced by enslaved Africans. Without that cotton, we would still be East Chelmsford. Yet with the city's entire economy dependent on the steady flow of cotton from the American south, Lowell also became a center of anti-slavery activity. Events in the city from its founding in the 1820s, up until the start of the Civil War, were a microcosm of what was going on in the country. (And with race playing such an enormous role in our politics today, this topic is more timely than ever).
If this is a topic of interest to you, plan to attend the Moses Greeley Park Lecture on March 15, 2016 at 7 p.m. at the National Park Visitor Center on Market Street, when Harvard historian Sven Beckert will give a talk on his superb book, Empire of Cotton, which places Lowell in the larger context of the global economy of the 19th century that was all about cotton.
Job-Killing Regulations
It seems that any time I see a TV news story about protecting the environment, it always includes some national legislator denouncing "job-killing regulations" that are intended to benefit the environment. I thought of this last week when I read a story in the Boston Globe about General Electric's fight against an Environmental Protection Agency's mandate that GE help clean up the Housatonic River which its Pittsfield, Massachusetts, plant polluted for decades ("GE, EPA in dispute over federal plan to clean Housatonic River.").
I happen to have a friend who grew up in Pittsfield. I sent a link to the story to my friend and asked about GE and Pittsfield. I'll leave you with the response I received, and ask you to consider whether stronger environmental regulations might have been worth the additional cost to Corporate America:
Growing up in Pittsfield, every other kid's dad worked at GE.  I remember being in a friend's car with her mom to pick up her dad from work.  The dad came out with a handful of cherries and shared them with us.  I know now that they came from a tree contaminated with PCB's for sure!  Many people got free soil delivered from GE sites.  Parents of one of my friends planted their garden in such soil.  These people were straight from Italy, and practically grew everything they ate.  They had a beautiful yard and huge garden.  The mother died of cancer and years later GE dug up the yard and removed the contaminated soil.  This is just one story, but there were many lawns dug up throughout the city for the same reason.  Apparently, this was the first phase (and probably the last) of the cleanup.  I don't have any idea how it was determined that certain properties contained PCB's.  Maybe the homeowners had to have actual knowledge of the potential contaminant and reach out to the EPA?  Who knows?  I'm sure GE wasn't providing a list of properties.  Chances are, accurate records of where the contaminated soil was delivered were not kept.  There is a lake called Silver Lake that was filled to the top with GE waste.  One time it started on fire all by itself.