Lowell Week in Review: December 27, 2015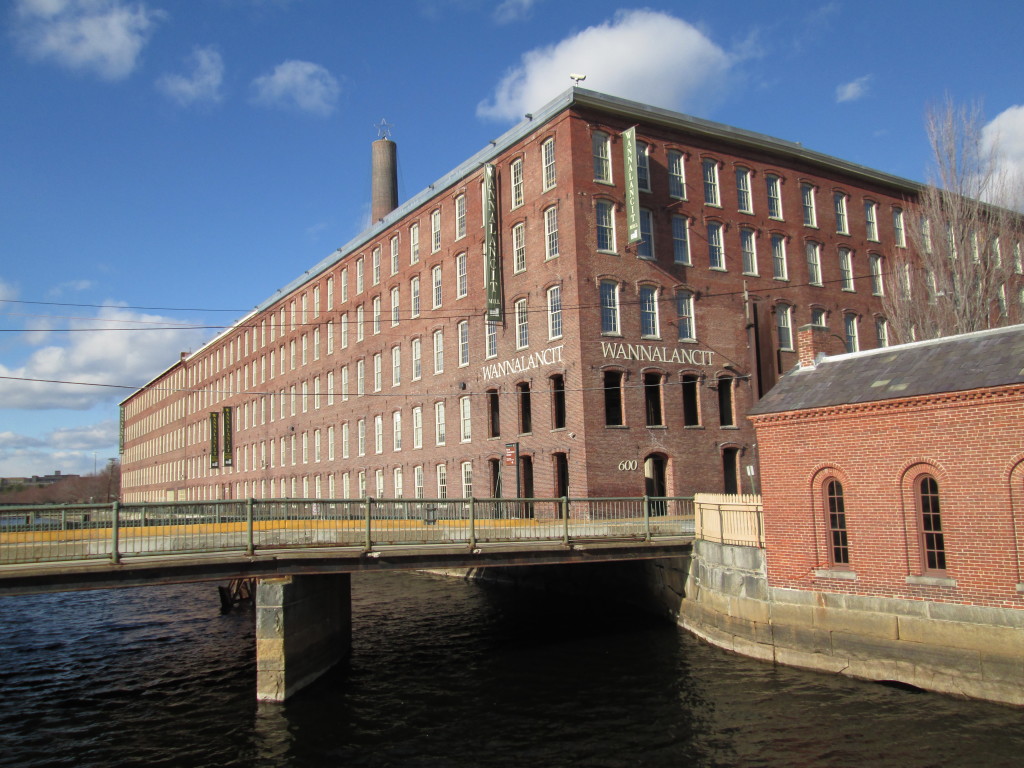 Lowell as a Regional Christmas Attraction
Kevin Harkins did an outstanding job capturing the allure of the mammoth Christmas tree smokestack at the Wannalancit Mills on his Harkins Photo Blog.
John Power, a principal of Farley White Interests, the outfit that owns the Wannalancit Mills, had hoped to persuade others with similar properties along the river to also turn their smokestacks into illuminated Christmas trees each December. So far, no one else has done so which is a shame because a string of tall smokestacks lining the Merrimack, all lit up as Christmas trees, would be a great way to draw people and positive attention to Lowell in the wintertime.
At the December 8, 2015 city council meeting, Bill Samaras and Corey Belanger filed a joint motion that requested the city send an official letter of thanks to Mr. Power and his company. While that was a timely motion, it would be nice if the same two councilors and others filed a corresponding motion early in the New Year asking the city to develop a year-round strategy to persuade and assist other building owners to similarly decorate their properties.
Shopping in Lowell
What would these people drawn to the city by the smokestack Christmas trees do once they got here? They could shop. Some might ask "where?" To them, I would paraphrase former Celtic coach Rick Petino and say "The Bon Marche isn't walking through that door, fans."
The day of the major department store on Merrimack Street is long gone largely because suburban shopping malls took away the business. In 2015, however, Amazon is doing the same thing to shopping malls that shopping malls did to urban department stores in the 1970s. This creates an opportunity for small businesses selling niche products. Many such business already exist here in Lowell. The Loading Dock Gallery at Western Ave, the fourth floor of Mill No. 5, and many other small businesses scattered throughout downtown Lowell offer all kinds of interesting and unique items that you would be unlikely to find or purchase online or at the mall.
I spent some money at these Lowell places this Christmas season. How many others did the same? Perhaps another council motion could call for a survey of the "creative economy" businesses in Lowell to see how they did this year. Too often, Lowell follows the "decision by anecdote" path rather than compiling data and evidence that would allow facts not perception to drive our decision-making process. Now, while Christmas is still fresh in everyone's minds, would be a good time for this data collection process to begin.
Notini Property Sold
The Notini Property at 225 Aiken Street was sold on Wednesday to the UMass Building Authority. The purchase price was $5.8mil. The city had assessed the 211,000 square foot parcel at $1.9mil ($377,000 for the building and $1.5mil for the land). That leaves a spread of $3,880,500 between the $5,800,000 purchase price and the $1,919,500 city assessment. So did UMass overpay or did the city under value the property? Or is there some other exclamation?
Lowell Catholic combines with St Margaret School
Big news this week for parochial education in Lowell: St Margaret School is being absorbed by its neighbor, Lowell Catholic High School which will now be a pre-K to grade 12 institution called Lowell Catholic School. Because I was on the board of trustees back in the late 1980s when Lowell Catholic came into existence, I've written a separate post about its formation and history.
The Big Short
I saw The Big Short yesterday. It's a star-studded movie about the collapse of the American housing market and the world economy in 2007. Because I had a ringside seat at the creation of the bubble that led to the collapse (who knew that a bunch of crappy mortgages in Lowell, Massachusetts would help collapse the global economy?), I've always had a great interest in this topic.
The movie is humorous and poignant and entertaining. (New York Times review here).  At times it seems like a documentary. It stars, among others, Brad Pitt, Christian Bale, Ryan Gosling, Steve Carell, Marisa Tomei, Melissa Leo, and others. I found it to be a great movie that gets the big picture pretty much right. Some will disagree with that assessment because it places the blame for the housing bubble on Wall Street bankers, AWOL regulators, and greedy functionaries and not on immigrants, poor people, and Barney Frank.
The Big Short continues at the Lowell Cinema. Take two hours and go see it.