Lowell Week in Review: March 15, 2015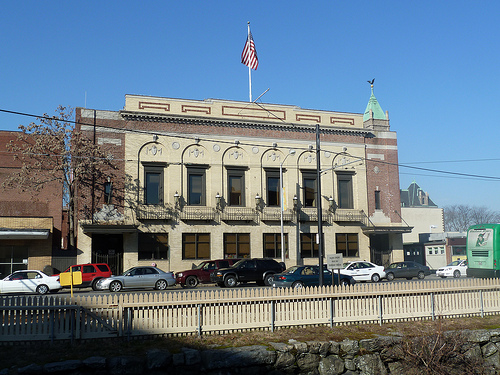 For too long our daily outside temperature was locked in the teens and any precipitation was unquestionably snow. Yesterday's rain seemed odd, unusual, almost difficult to comprehend.  It and the warmer temperatures are signs of spring and the rapidly receding snow offers hope that soon we'll be able to enjoy time outdoors.
The council had a relatively quick meeting Tuesday night with a few important items like the Lakeview Ave shooting and funding for a new Lowell High School on the agenda.  If you haven't read my report on the meeting, please do so when you have a chance.  Otherwise, there wasn't anything particularly noteworthy that I can recall from this past week.  For that reason, I want to go back to an issue that I believe is critically important for the future of the city of Lowell and that's the Dutton Street – Thorndike Street corridor.
In the introduction to his 2012 book, Walkable City: How Downtown Can Save America, One Step at a Time, Jeff Speck contrasts a walkable city with one that isn't.  Rome is the walkable city, a "magnet for walkers," he calls it despite its age and the absence of what Speck calls "conventional American measures of pedestrian friendliness."
Speck's choice of a city that isn't walkable?  Lowell, Massachusetts.  Here's what he says about our city:
A couple of years ago, while I was working on a plan for Lowell, Massachusetts, some old high-school friends joined us for dinner on Merrimack Street, the heart of a lovely nineteenth century downtown.  Our group consisted of four adults, one toddler in a stroller, and my wife's very pregnant belly.  Across the street from our restaurant, we waited for the light to change, lost in conversation.  Maybe a minute passed before we saw the push-button signal request.  So we pushed it.  The conversation advanced for another minute or so.  Finally, we gave up and jaywalked.  About the same time, a car careened around the corner at perhaps forty-five miles per hour, on a street that had been widened to ease traffic.  The resulting near-miss fortunately left no scars, but it will not be forgotten.
Speck goes on to write that too often, urban planners equate walkability with more crosswalks and crossing lights but they're only partly right in thinking that way.  Walkability is more complicated.  Speck says that to be walkable, a place must satisfy four conditions: it must be useful, safe, comfortable and interesting.  He explains each of these four elements:
Useful means that most aspects of daily life are located close at hand and organized in a way that walking serves them well.
Safe means that the street has been designed to give pedestrians a fighting chance against being hit by automobiles; they must not only be safe but feel safe, which is even tougher to satisfy.
Comfortable means that buildings and landscape shape urban streets into "outdoor living rooms," in contrast to wide-open spaces, which usually fail to attract pedestrians.
Interesting means that sidewalks are lined by unique buildings with friendly faces and that signs of humanity abound.
At the City Council Transportation Subcommittee meeting back on February 24, 2015, I and the three dozen other members of the public there to learn about the plans for remaking the Lord Overpass heard the word "walkability" spoken by the engineers and by city officials.  I think they were sincere, certainly not patronizing, but I also think they are speaking a different language and define "walkability" far differently than did the members of the audience.
To the experts, walkability is measured in the width of sidewalks and the distance between crosswalks and crossing lights.  To me, walkability is a more amorphous thing.  It's a little bit like the US Supreme Court Justice said about pornography: "It's hard to define but I know it when I see it."  The same is true about walkability.
New sidewalks and a crossing light at Dutton and Fletcher is not going to make the stretch of Dutton and Thorndike Streets from City Hall to the Lowell Connector any more walkable than it is now.  That will not only be a shame, it will also be a squandered opportunity to enhance an amazing collection of buildings, places and organizations that currently line that corridor.  Consider what's already there or in the pipeline:
This is an amazing collection of buildings, institutions and sites and all are within a few hundred yards of each other.  They are natural attractions that each draw visitors in their own right.  But if we weave them all together, if we make it easy and enjoyable to walk from one to another, any time of day, any day of the year, all of those institutions would benefit and the city and ALL of its residents would benefit tremendously.
So let's broaden the discussion beyond the Lord Overpass plan.  Let's talk about making this place more walkable.  I don't know what that's going to take, but I'm confident I'll know it when I see it.