Big day at Western Avenue Studios this Saturday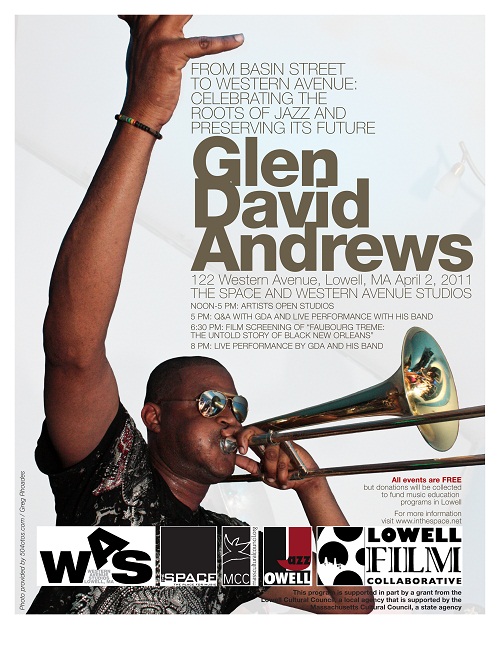 With April 2 being the first Saturday of the month, Western Avenue Studios will have its normal Open Studios during the day, but there's much more this month. Here's the schedule:
–Noon to 5 PM, First Saturday Open Studios
–5 PM, Q&A/PERFORMANCE: This show is open to everyone but our special guests will be young musicians and music fans from greater Lowell. The
show will open with a Q&A between Glen David Andrews and Mike Flynn of WCAP. He'll talk about his life, the evolution of jazz, how music saved
him from the streets, etc. Then he'll play a set.
–6:45, FILM SCREENING: We'll show the documentary "Faubourg Treme: The Untold Story of Black New Orleans." GDA is featured in this film, but our
other special guest will be Dr. Caryn Cosse Bell, who was Research Director on the film and is a UMASS Lowell history professor.
–8:30 PM, GDA PERFORMANCE: Put the children to bed. This is basically just GDA's regular nightclub act. He is a monster and will burn the mills
to the ground.
Everything is free. Donations will be collected to create a fund for music education initiatives here in Lowell. We're also trying to collect
used and new instruments to send back to NOLA with Glen David for his nonprofit initiative "Trumpets Not Guns".
Here's some more information about Glen David Andrews:
A 30-year-old native son of the historic Treme neighborhood, Andrews first played Western Avenue Studios in 2009. His thrilling performances draw upon his cultural lineage, incorporating the sounds of gospel, blues, traditional jazz, funk, and brass band street music. He has toured the globe with his own band and alongside such luminaries as Bonnie Raitt, Lenny Kravitz, and U2's The Edge. He is featured playing himself on HBO's "Treme" series and was recently honored as a "Future Hall of Famer" by the Louisiana Music Hall of Fame. He is also the cofounder of "Trumpets Not Guns," a grass-roots initiative to distribute instruments to disadvantaged youth in New Orleans. www.glendavidandrewsband.com