"Droichead na nDeoir" and other poems by BILLY FENTON
This month Trasna is featuring writers participating in Words Ireland National Mentoring Programme. Every year, 22 emerging writers are selected for the program in the areas of literary fiction, creative non-fiction, children's/YA fiction, and poetry. Each are paired with mentors.
Featured this week is poet Billy Fenton. On participating in Words Ireland, he writes: "I had the privilege of working with Mark Roper over the last eight months, under the Words Ireland National Mentoring programme. As well as enhancing my craft, he gently pushed me to listen more intently to my internal voice, the one that I sometimes don't want to hear."
BILLY FENTON on Trasna and the thematic connections with his poetry.
Droichead na nDeoir (Bridge of Tears) is an actual place in the Donegal mountains. In the 19th century, emigrants to the US said goodbye to their families at this bridge. Many of them would never see each other again. The US returned many good things back to the world, including new music. Cracked Voices explores how jazz affected the life of this writer when he was in his early twenties. Finally, the theme of migration continues worldwide and the poem Returning is inspired by Syrian Refugees being turned back at European borders in 2016. Interestingly, the Syrian Christian Church, still uses a form of Aramaic which was the language spoken by Jesus.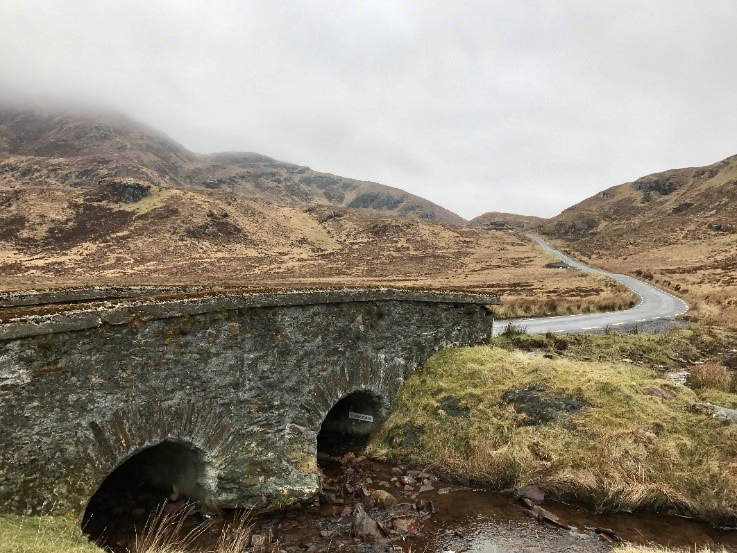 The Bridge of Tears is in the Derryveagh Mountains. It was the last place where emigrants saw their loved ones. Photo by Billy Fenton.
Droichead na nDeoir
A stream bites through Muckish gap.
At the bridge, you can't see back,
or forward. Only the slopes. Heather.
Sky. Like it has always been.
We crossed it each morning
on our way to work. Each evening
when we returned. Maybe
a thousand times or more.
We planned a home. Argued.
Sometimes just sat in silence.
Every evening we came back,
to the rest of our lives together.
I cross the Bridge of Tears,
lean over the wall, stare at
the pictures tossed back
by the water. Your hospital bed.
You wake. You touch my face.
I touch yours. Fall back
into sleep. Never guessed
it was our final goodbye.
Above me at the mountain gap,
the road vanishes. Hands in clay.
New plants growing. Dirty wellies.
Blue boat skimming the waves.
Two naked bodies under the sky
on a bed of mountain heather.
Cracked Voices
It was on my father's
old Normende radio,
that I first heard your jazz.
Your trumpet mournfully rippled,
across my little bedroom,
broke over my mind,
and we were brothers.
It was on a cassette player,
in a house in Belfast,
that I first heard your flamenco.
I didn't understand your words,
but your voice was tangled and raw.
It gurgled up from some dark cave,
and spat its pain into Belfast night.
It was on an old LP,
in a Cork boarding house,
that I first heard you sing.
You sang of strange fruit,
and many ordinary things.
In a voice almost broken.
In a voice almost sweet.
Cracked voices,
Not polished,
Not perfect,
Not afraid to risk,
Not a role model to be heard.
Just ordinary to the core.
Just dazzling for the heart.
First published in The Irish Times New Irish Writing. With thanks to editor Ciaran Carty
Returning
Betrayed by a mouse click
a thousand miles away,
a man with a face like Jesus
is driven back.
On the returning road
that he cannot take,
he rests under the shade of an olive tree.
A small hand squeezes his.
Angry voices ride the breeze.
A helicopter circles overhead.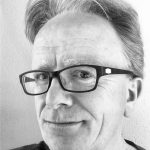 Billy Fenton lives outside Waterford City and he writes poetry and short stories. His work has been published in the Irish Times, Poetry Ireland Review, Crannóg, Honest Ulsterman, Galway Review and others. He was shortlisted for a Hennessy Award in 2018, and for a Write by the Sea Poetry Award in 2019. He was chosen as a mentee for the Words Ireland National Mentoring Programme in 2019.