Here's an in-the-moment "howl" by Leah Forrant of Los Angeles. She lost her position as a business manager to the pandemic. Her dad is historian Bob Forrant of Lowell who teaches at the university.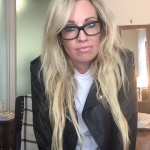 -Devastating Tornadoes
by Leah Forrant
.
-Devastating Tornadoes
-Earthquakes
-Massive hurricanes
-Impeachment . . . WAIT, NO
-Mass shootings
-Wildfires
-Dr. Phil
-Climate change
-KOBE
-Girls everywhere crying
in their bedrooms
looking at their
Coachella outfits that
would never be
-The ever growing opioid
crisis
-A FUCKING PANDEMIC
-"911 – I ate Clorox
wipes"
-Oh, and here come the
Murder Hornets.
-What is the safe word
please? I'm looking to
dip out of the Black
Mirror 2020 episode.
Cool, thanks.